KLICK HIER UND ERFAHRE MEHR / CLICK HERE TO READ MORE!

—————————————————————————————————————————————————————————
Ein paar Erfolge auf "Carp Total!"
von Selina Kürner
Die Woche geht zu Ende und man freut sich schon auf den ersehnten Freitag – Feierabend! Endlich!
Ab nach Hause! Auto ist natürlich schon geladen. Duschen und los geht's ans Wasser! Voller Vorfreude sitze ich im Auto und fahre an mein Vereinsgewässer. Ich überlege: "Hoffentlich ist mein Platz noch frei…". Am See angekommen, nichts los – na prima, freie Platzwahl! Besser kann es ja nicht sein 🙂
Nachdem das Camp stand, ging es an die Ruten. Meine erste Montage bestand aus einem Snowman aus "Carp Total!" Boilie mit V-Pop beschmückt. In der neuen schwarzen IB Jubiläumsbox, kann man natürlich sehr schön seine Boilies mit etwas Milchpulver benetzen, damit man eine sehr attraktive Wolke unter Wasser erzeugt.

Mein Futterboot mit halbierten und benetzten "Carp Total!" Boilies

Futterwolke!
Die neuen Bollen riechen nicht nur gut, sondern fangen auch extrem gut! Der Beweis war da! Die erste Rute lag keine halbe Stunde und schon den ersten Run auf diesen neuen, super Boilie…

Schnellstart!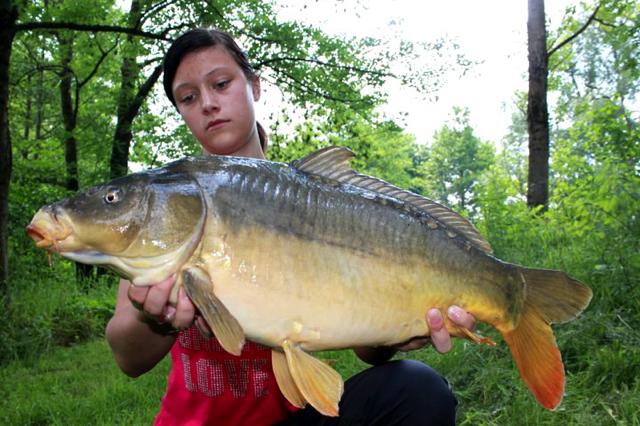 Ein weiterer Sommercracker!

Noch einer! Im Laufe der letzten Tage durfte ich einige Karpfen auf meine Abhakmatte legen. Ein gelungener "Carp Total!" Start würde ich dazu mal sagen.

Klein aber fein…und mein! 😉

Und tschüss mein kleiner Freund…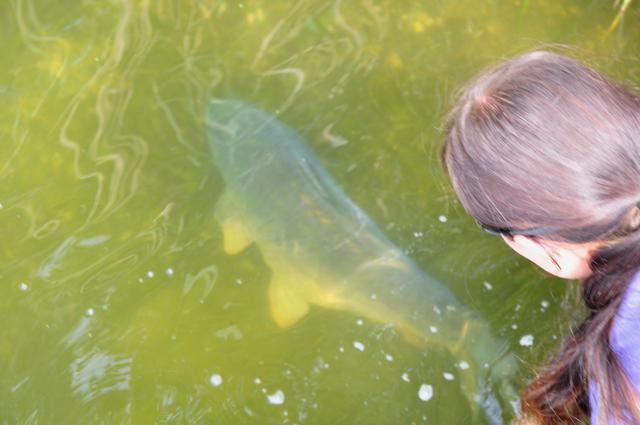 Ui, ein Graser!

The BIG ONE!
Mein Fazit: "Carp Total!" Boilies sind echt HAMMER! Total der Wahnsinn, wie der Name ja schon sagt "Carp Total!" 🙂


Ich hoffe ihr werdet genauso erfolgreich sein! Einfach mal testen!
—————————————————————————————————————————————————————————
Carpcamp Schorndorf 2014
von Selina Kürner
Bevor ihr Euch fragt, was ist denn das? Würde ich gern ein paar Worte über mich und das Event verlieren…
Ich (Selina Kürner) bin seit dem zweiten Jahr Jugendleiterin im Schorndorfer Angelverein. Und ich habe mir überlegt mit meiner Jugendgruppe einen Ausflug zu machen. Es ging an das Vereinsgewässer in Bayern. Zum Ausflug haben sich 10 Jugendliche angemeldet. Ich habe mich natürlich gefreut, dass sich so viele für einen Karpfenworkshop interessierten, trotz Urlaubszeit im Juli. Bloß ich war mir nun bewusst ich muss auf 10 Jugendliche 3 Tage lang aufpassen. Tage zuvor wurden alle Vorbereitungen getroffen. Treffpunkt, Ankunft, Abfahrt, Sponsoren, Preise, Trinken etc.! Viel Planung…
Doch dann ging es los!
Treffpunkt war an unserem Vereinsgewässer in Urbach um 7:00 Uhr. Nachdem das ganze Angelsach verstaut wurde, ging es zum See. Trotz vielen Baustellen sind wir alle heil am See angekommen. Die Plätze wurden untereinander verteilt, das hat übrigens ohne viel Diskussionen funktioniert 🙂
Die Jungs waren gespannt was sie erwartet…

Jeder baute sein kleines Camp auf. Als alle fertig waren, versammelten wir uns und alle Teilnehmer bekamen ihr Goody Bag von Philipp Braun und Imperial Baits gesponsort.
Bestehend aus der Jubiläums iBox, 1kg "Carp Total!" Boilies, Sticker Set und…

…die Phil in France DVD

Von Imperial Baits gab es ebenfalls die DVD Carp Total Vol2 und passende Pop Ups, Amino Gel & Dip zum "Carp Total!" Boilie für die ganze Truppe oben drauf! Danke nochmal an alle Sponsoren war echt top und danke für die Unterstützung der Jugendlichen!

Nachdem jeder sein "Goody Bag" hatte, lies der erste Karpfen nicht lang auf sich warten – Yes!

Bis zum Abend fingen wir konstant Fische auf… "Carp Total!" – na klar!

Good One!

Am Abend saßen wir zusammen am Lagerfeuer und grillten gemütlich ein paar Würstchen. Am nächsten Morgen stand fest – wir müssen unsere Taktik umstellen, denn es wurde nur ein Fisch in der Nacht gefangen! Das kann ja nicht sein das meine Jugendlichen nun nix mehr fangen, nachdem alles so gut anfing!

Wir tüftelten einen neuen Schlachtplan aus

Die Montagen wurden nun mit Luftmatratzen und Futterbooten rausgefahren bzw. abgetaucht.

Danach waren wir wieder im Rennen!

Der Erfolg ließ nicht lang auf sich warten, die ersten Fische bissen schon nach einer halben Stunde. Die halbierten "Carp Total!" Boilies
Am Abend wurde dann der Wettkampf veranstaltet, das beliebte Casting!

Es war einfach nur amüsant wie die Bilder bestimmt beweisen 🙂

Nun standen auch die Gewinner der Preise fest.
Der Abend klang mit Musik und lustigen Spielen aus…

Der nächste Tag brachte einige schöne Fische.

Jeder Jugendliche fing mindestens einen Karpfen. Top echt Klasse!

Jeder war zufrieden und fand den Ausflug super klasse!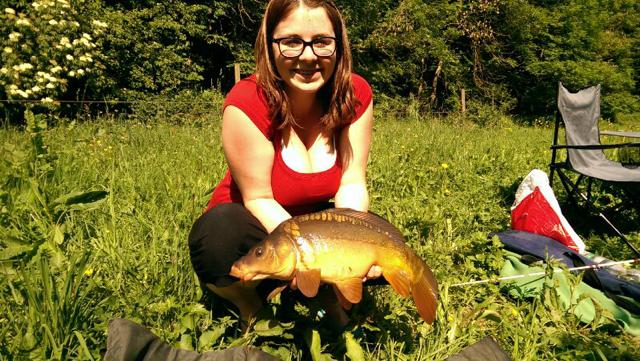 Ich freue mich schon auf das nächste Jahr Jungs und Mädels. War echt hammer, immer wieder gern! Und nochmals einen Dank an die Sponsoren!
Selina Kürner
Imperial Baits Ladies Team