KLICK HIER UND ERFAHRE MEHR / CLICK HERE TO READ MORE!
—————————————————————————————————————————————————————————
Kurzsession mit Monster's Paradise
von Elena Antoniucci
Nach einem Monat regelmässigem Anfüttern mit Monster's Paradise Boilies, entschied ich mich für eine Kruzsession von 2 Tagen mit meinem Freund Alessandro an unserem Hausgewässer. Nach den starken Regenfällen der letzten Tage, schafften wir es mit dem Auto nicht bis ganz an den See heran und mussten die letzten 300m unser Tackle durch die verschlammte Straße schleppen. Aber was tut man nicht alles um ein paar Karpfen zu überlisten 🙂
Nachdem wir endlich alles an Ort und Stelle hatten, machten wir unsere Rigs fertig. Meinen bestückte ich mit einem leicht beschnittenen IB Carptrack Flying Monster's Paradise Pop Up.

Um die Ruten heraus zu fahren benutzten wir das iBoat 160. Zum Glück ist es schön klein, handlich und leicht. Für solche Kurzsessions der ideale Begleiter!

Da dieser See einen sehr schlammigen Untergrund aufweist, benutzten wir ausschließlich Pop Up Montagen in Verbindung mit den verlässlichen Carp'R'Us ATS Centurion 2000 Haken in Größe 2.

Ich wählte meine Spots an einem Schilfgürtel und an der Spitze einer langsam abfallenden Kante bis auf 6m Wassertiefe. Die Nacht brach herein und nach einem guten Abendessen fielen wir auf unsere Bedchairs. Doch der Schlaf war nur von kurzer Dauer, denn die Rute am Schilf lief gegen 23 Uhr ab. Nach einem kurzen Kampf und einer schnellen Fotosession, setzten wir den kleinen wilden zurück in sein Element.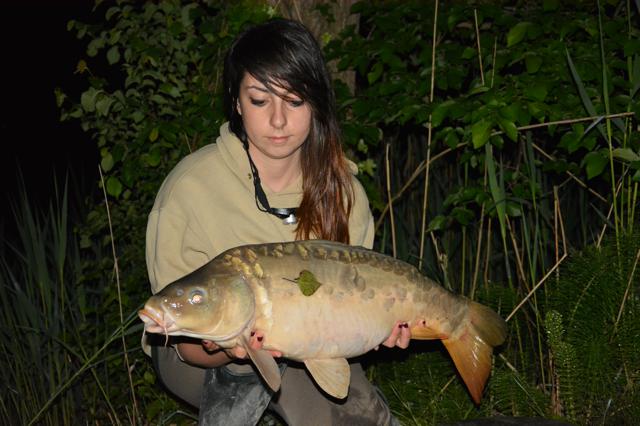 Ich beschloss die Rute nicht erneut auszubringen um Unruhe am Platz zu vermeiden. Damit traf ich wohl die richtige Entscheidung, denn kurze Zeit später lief die nächste Rute in unmittelbarer Nähe ab…

Bei Tagesanbruch begann ein kräftiger, kalter Nordwind über unseren See zu blasen. Das minderte die Aktivität der Fische und es blieb den ganzen Tag über sehr ruhig. Gegen Abend kam eine Gruppe Wildschweine zu Besuch.

Die zweite Nacht brach also herein und ich legte alle Ruten neu. Um die Lockkraft zu erhöhen setzte ich Carptrack inP and Carptrack inL ein. Auch die Nacht über schwiegen die Bissanzeiger, doch am Morgen stieg ein schöner Karpfen in 3 m Tiefe ein…

Ich denke die Fische zogen sich ins tiefe Wasser zurück, dem Nordwind sei Dank.
Flying Hookbaits Monster's Paradise & Worm Up Gel

Zuerst den Hakenköder im Wasser befeuchten, dann im Gel wälzen…

…erneut mit Wasser befeuchten um das Gel am Köder zu fixieren.

Ready to catch!


IB Lady Elena Antoniucci
Team Imperial Fishing Italy
—————————————————————————————————————————————————————————
Letzte Chance – nur noch heute!
ACHTUNG: nur noch heute bis 0:00 Uhr gültig!!!
"Das Angebot des Jahrzehnts" mit 25% Rabatt!
jetzt nur 111 Euro – über 25 % gespart!
GRATIS dazu – nur heute: IB Carptrack Liquid / Powder Paste 180g!
Die "Wunderpaste" aus der Dose befindet sich momentan in der Testphase, werde Teil einer neuen Produktentstehung und teile uns Deine Erfahrungen und Fänge mit: info@imperial-fishing.de
In dieser Dose stecken über 140g Carptrack Powder und über 50ml Carptrack Liquid.
Gewichtsverhältniss 1:2,7 – Volumenverhältniss 1:7

Inhalt:
– 5 kg IB Carptrack Boilie "Carp Total!" – 20 mm
– 150 ml IB Carptrack "Carp Total!" Amino Dip
– 100 g IB Carptrack "Carp Total!" Amino Gel
– 100 g IB Carptrack "Carp Total!" Flying Hookbaits – 20 mm
– 125 g IB Carptrack "Carp Total!" Half'n Half – 20 mm
– 1 x iBox 12,5 Liter – Jubilee Edition THE BLACK BOX!
– 250 ml Energy Drink "IF POWER – Racing Edition"
– 1 x T-Shirt – 10 years IF-POWER – Jubiläums Edition (Größe wählbar)
– 1 x Jubilee Sticker
jetzt nur 111 Euro – über 25 % gespart!
Wa(h)renwert mind. 148,79 Euro!
Achtung: Bitte geben Sie am Ende der Bestellung im Kommentarfeld
die gewünschten T-Shirt Größe an.