KLICK HIER UND ERFAHRE MEHR / CLICK HERE TO READ MORE!
—————————————————————————————————————————————————————————
Monster-Liver vs. "Carp Total!"
von Stefan Uhrig
Hallo liebe iBlog-Leser,
Juli – August, Sommer-Sonne… man sollte meinen dies gehört zusammen, doch wettermäßig glich es eher dem April oder Herbst! Starke, unwetterartige Regenfälle ja sogar kleinere Orkane zogen quer über das Land … Vom Sommer war nichts übrig geblieben und anglerisch war meine Zeit durch diverse Geburtstage, Polterabende und Familienfestlichkeiten, noch dazu dem eigenen Familienurlaub geprägt. So war ich gezwungen meine Passion auf kurze, knackige Sessions zu reduzieren und von genau einer solchen möchte ich Euch heute berichten.
Zeit zum Vorfüttern blieb nicht und eine regnerische Nacht lag hinter mir, als gegen halb neun am Morgen der erste Fischkontakt meinen Schlaf beendete…

An Land wollte er um keinen Preis, was sollte er dort auch!?

Der Gute nahm kräftig Leine in Anspruch…

Die Handbremse verringerte allmälich den Gegenzug den mein Gegenüber aufbrachte…

Kurz vorm Kescher erprobte er erneut die progressive Spitzen-Aktion meiner Temptation MK3

Straffer Ritt durch's Kraut in Richtung Hecke – aber Glück gehabt!

Es war ein anständiger Drill und der Spiegler schien alles andere als Müde zu sein…

Immer wieder entriss er meiner Rolle die Schnur!

Mein Safty-Clip löste das Blei durch den Kontakt mit dem Kraut und das Backlead rutschte nach hinten bis zum Knoten der Shock It … bei solch starken Fluchten kann dies deutlich vor Verletzungen des Fisches schützen! Lieber ein Blei verlieren als ein verletzter Fisch auf der Matte!!!

Nervenaufreibende Angespanntheit wandelte sich langsam in ein siegerisches Glücksgefühl, denn meinem Gegenüber ging sukzessive die Puste aus und er glitt mit geöffnetem Maul auf mich zu…

Kescher drunter…

…und hoch damit! YES GET HIM IN THE NET!

Der Sieger stand fest 🙂

20mm Monster-Liver in Kombination halber pinker Fluo-Poppi 😉 vollstes Vertrauen und instant meist meine erste Wahl!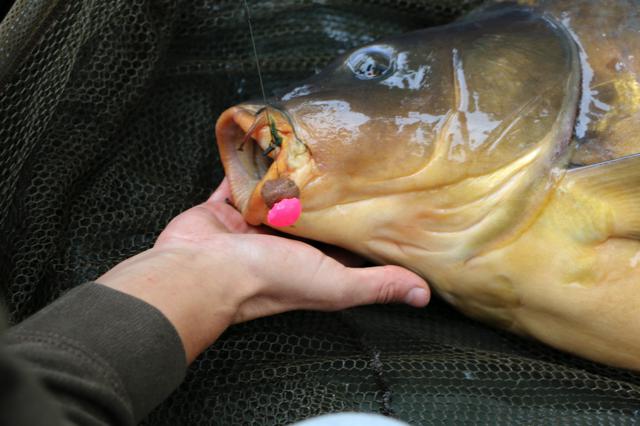 Er zauberte mir ein Lächeln ins Gesicht 🙂 Auch wenn seine Schwanzsflosse schon bessere Tage gesehen hat, nicht immer sind hier jedoch Angler schuld. Oft ziehen die Karpfen sich selbst schwere Verletzungen beim ihrem Laichgeschäft zu.

Mach's gut mein Großer bis zum nächsten Mal!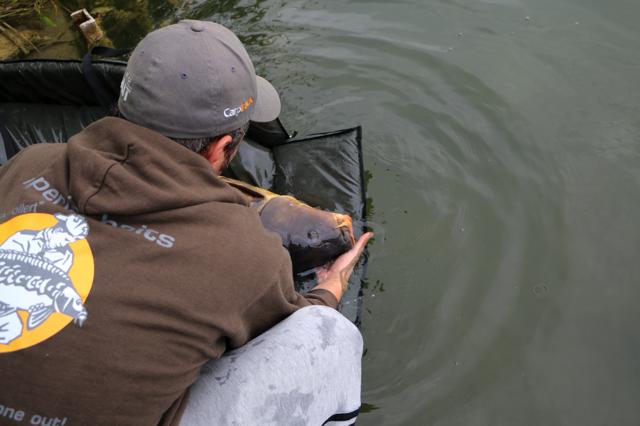 Kurze Starthilfe, dann zog er von selbst ab, …mit Recht!!! Geiles Teil!!!

Mein Carp'R'Us Rig bestand aus dem neuen Strip-X, von dem die Ummantelung ca. 10cm entfernt wurde und einem ATS Continental Snag Hook Größe 4, einem kleinen grünen Moutshnagger sowie etwas CRU Tungsten Putty um das Vorfach schön an den Gewässerboden zu "tackern".

Nachdem es im Anschluss mit einem gesoakten "Carp Total!" Boilie neu bestückt wurde, (den pinken Fluo-Poppi konnte ich nochmal nutzen), kam es wieder an meinen Swim in direkter Ufernähe!
Anvisieren, Zielpeilung…

…und GO!

Die Invisible Touch musste, um Schnurkontakt zu vermeiden, wie zuvor mit einem Backlead abgesenkt werden um keine Scheuchwirkung auszulösen wenn die Rüssler zurück auf meinen Platz kommen sollten 😉

Kommen Karpfen ungewollt mit der Angelschnur in Berührung, erschrecken sie sich und suchen meistens das Weite. Oft dauert es sehr lange bis sie sich erneut am Spot blicken lassen!

Die Waffen sind scharf!

Dann hagelte es eine Symphonie aus 16 und 20 mm "Carp Total!" Boilies, Fish und Monster-Liver Kugeln.

Ich füttere gerne verschiedene Boiliesorten an einem Spot, um alle unterschiedlichen Geschmäcker zu bedienen.

Ein zwei Stündchen später zeigte sich die Sonne und plötzlich – FULLRUN!
Ein schöner Schuppenkarpfen versüßte mir die Zeit des einpackens…

Der Spielstand zwischen Monster-Liver und "Carp Total!" endete mit einem 1:1 – unentschieden! 🙂

Alles nass aber glücklich wie Bolle packte ich den Rest meines Tackles zusammen und trat die Heimreise an. Ich freute mich bereits auf meine nächste Kurzsession!!!

Ich wünsche euch allen viel Erfolg und bis bald!


Stefan Uhrig
Team Imperial Fishing Germany
—————————————————————————————————————————————————————————
Die neue IB Klickbox ist da!
Wir haben folgende zwei Sets zusammen gestellt in der Ihr die
Imperial Baits Klickbox GRATIS dazu bekommt:
29,90 € – Uncle Bait Starterpack:
KLICK HIER und gelange direkt zum Produkt in den Onlineshop

39,90 € – "Give me 5" Dips & Gele:
KLICK HIER und gelange direkt zum Produkt in den Onlineshop

6,90 € – IB Klickbox, leer:
KLICK HIER und gelange direkt zum Produkt in den Onlineshop