KLICK HIER UND ERFAHRE MEHR / CLICK HERE TO READ MORE!
————————————————————————————————————————————————————
The new CZECH and SLOVAKIAN Shop is online!
www.imperial-fishing.cz
Good NEWS: from now on our exclusiv distributor for the Czech Rebuplic and Slovakia David Fort, has opened the new IMPERIAL BAITS ONLINESHOP!
Retailers and Fisherman: feel free to contact David to get in contact with Imperial Baits products:
IB Exclusive Distribution / Wholesale
David Fořt
Pod Mezí 326
CZ – 25066 Zdiby-Brnky
Mobil: +420 603 181 500
E-Mail: davidfort@carpfishing.cz
Obchod Online v češtině:
www.imperial-fishing.cz
————————————————————————————————————————————————————
Part 2: Carpfishing at a building site
from Nejc Prsa
Some of you may remember my first article in german language, you find it here! I talked about the gravel pit I mainly fish this year and in that same article I also shared my feelings after success of catching the first big one at that water. After that catch I absolutely fell in love with the water. Not a day goes without thinking about my gravel pit and breath-taking carp in it. After a short break from fishing, because of study duties I decided it is time to go back and try to »nick« another carp or two.
This time I decided to use ready made Carptrack Birdfood Banana Boilies and without a doubt I can say, that they did the superior job!
Big Bertha – as I named it!

I arrived on the water in the afternoon, just in right time to position my rigs on the spots and get everything ready for the night. I decided to fish the same spots as last few times. Because I already know those spots from my head, I don't use a sonar. All what I used was just a simple proding stick.
I can not even imagine my fishing without the smallest iBoat in range – the iBoat 160

In relatively short time, everything was packed out and ready for the night time action.

My fishing buddy! 🙂

The rigs I was using were very simple. At one rod I used Carptrack Birdfood Banana boilies in combination with fake sweetcorn and on the other rod in combination with Imperial Baits pink V-Pop.

Simple, but effective!

And on the third rod I used pop up presentation in hinged stiff rig style, with Imperial Baits yellow V-Pop. The Pop Up was boosted with just a little bit of IB Banana flavour and NHDC, to add a little sweetness and attraction to it. And it seems like it worked!

When the night came I started to hear carp jumping and rolling all over the part of water where I was fishing. I knew that is a good sign and I got that good feeling in my bones. Just after half past ten I get a short pip on my middle rod. I decided to go out and check what is going on and I did not even open the doors of my tent, when the Delkim begins to scream loudly. I ran out pick the rod up and in the same moment I feel the weight on the other side of line! In that moment I knew that is a fish I do not want to lose, I knew that I am attached to an serious carp! Slowly, meter by meter the fish came closer to the bank. Not long after I saw the colossal carp the first time. I begin to shake! In that moment I realised what I have on the other side of line! Fortunatelly I managed to get the fish in the net a few moments later and I was just amazed! Such a caracter!
I put him on the scales and it went up to 22,7kg!
For god sake, what a start I tought! What a carp!

In the morning the noise of trucks behind my bivvy woke me up and I knew that it was time to call my friend to capture the big one, which was waiting in the carpsack.

When I put the fish on the mat, we were just staring for a few moments and then the friend told me: »Even if you won't catch nothing more in this session, you must be happy and proud on yourself to catch such a carp on that hard water!« I realised that he was right, the carp in front of me was just superior!

The Carpkiss 🙂

Traffic jam just behind my bivvy!

Big Bertha is hungry 😉

I was pre-soaking my baits. I put them in the bucket of water and soak them, to make them work faster and more effective just after I throw them in the water.
Boilies after 5 minutes in the water…

…and after a few hours!

I spent the day playing with my four-foot friend and enjoying the spring sun.

Best friends!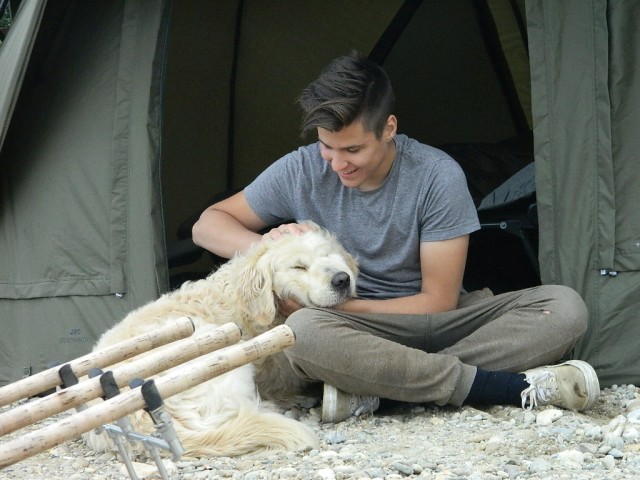 Hours were running quickly and the evening arrived. I jumped in the boat and placed my rigs new.
Rigs are on the position, what will bring the night?

I was hopeful for the night so I stayed up late, waiting for a run, but nothing happened. I fall asleep, but fortunatelly my Delkim wake me up just before 5am in the morning. This time my left hand rod went off. After a mean fight from the boat I landed a beautiful common!
The fighting machine was beaten!

After that fish I stayed at the water one more night, but nothing happened. Water level was dropping very quickly because of the rising river just 50 meters away. In the morning, I packed everything up and it was time to go home!

Good bye, till the next time my love!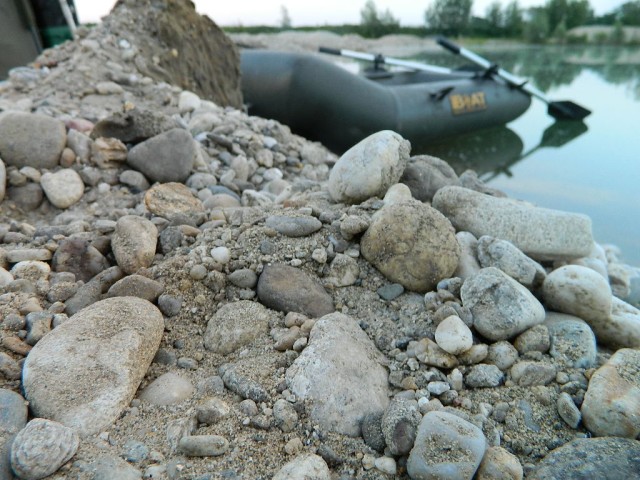 Nejc Prša
Team Imperial Fishing Slovenia