—————————————————————————————————————————————————————————
Das "Carp Total!" Gewinnspiel – Preise im Gesamtwert von 499,50 €
ACHTUNG: Einsendeschluss 30.06.2014 24:00 Uhr
Zum Release des neuen "Carp Total" Boilie und zu unserem 10 jährigen Jubiläumswochenende, haben wir uns ein tolles Gewinnspiel für Euch ausgedacht.
Mitmachen lohnt sich!
Preis im Gesamtwert von 499,50 €:
Unter allen richtig eingesendeten Antworten verlosen wir
5 x Das Angebot des Jahrzehnts!
Gewinnspielaufgabe:
– Jedes Buchstabenmuster im "Carp Total" Schriftzug steht für eine bekannte IB Carptrack Boiliesorte
– Ordne die "Carp Total" Buchstaben unseren Boiliesorten der Reihe nach zu
– Sende uns die Lösung an: info@imperial-fishing.de
– Und gewinne Das Angebot des Jahrzehnts!
– Einsendeschluss 30.06.2014 24:00 Uhr
—————————————————————————————————————————————————————————
Pimp my 8 kg Baits in the iBox
von Patrick Scupin
Hallo liebe Leute,
viele von Euch fragen mich des Öfteren auf den Meetings oder per Mail, wie ich denn das Carptrack Powder und Carptrack Liquid einsetze um meine Boilies damit zu benetzen, beziehungsweise zu ummanteln.
Das IF-Team steht Euch nicht nur auf den Messen jederzeit zur Verfügung 😉

Ich antworte dann immer ganz "legere":
Isch nehm ä eiBox, schütt paar Bolle nei, erscht ordentlisch Powder – gugge das alles gud b'schtäubd is – dann ordendlisch Liquid… gud mische – fertisch & FANGE!
…natürlich etwas selbtironisch von mir ausgedrückt, wer mich kennt weiß, dass ich, beziehungsweise natürlich das ganze IF-Team, uns immer ausreichend Zeit nehmen um auf Messen, per Email oder Telefon Fragen beantworten und die Produkte und dessen Anwendung gerne näher erklären.
Doch da ich gerade selbst wieder ordentlich Futter zubereiten musste, kam mir die Idee eine kleine Fotoserie zu schießen. Getreu dem Motto – do it like a brother, do it like a Scup 😀
Carptrack – die Karpfen stehen drauf!

Spaß bei Seite, die Verwendung von Carptrack Powder und Carptrack Liquid (oder eben völlig analog von Carptrack inP / Carptrack inL ist super einfach und hilft Euch, Euren Bait noch attraktiver sowie anziehender für die Karpfen zu machen.
Analog zu Carptrack Powder + Liquid könnt Ihr mit Carptrack inP / inL genauso verfahren um Eure Baits zu pimpen!

Folgend zeige ich Euch den Ablauf, wenn bei mir die Boilies gepimpt werden. Dabei soll uns exemplarisch mal der Carptrack Monster-Liver Boilie dienen. Selbstverständlich kann aber mit jedem IB Carptrack Knödel so verfahren werden, gerne auch Pellets und Partikel…
Mitunter am effektivsten, simpelsten und sogar preiswertesten für Euch ist folgende Kombi:
8 kg feinste Carptrack Boilies in der gratis iBox (12.5L) – in meinem Falle, 16er Monster-Liver Murmeln, kosten 94,90 Euro.

Carptrack Mo-Li Big Balls in 24 mm – gleich erfahrt Ihr was es damit auf sich hat 😉

Der 'Stoff' aus dem Karpfenträume sind: Carptrack Powder

…und zum Powder kommt das Carptrack Liquid für die unwiederstehliche Kruste!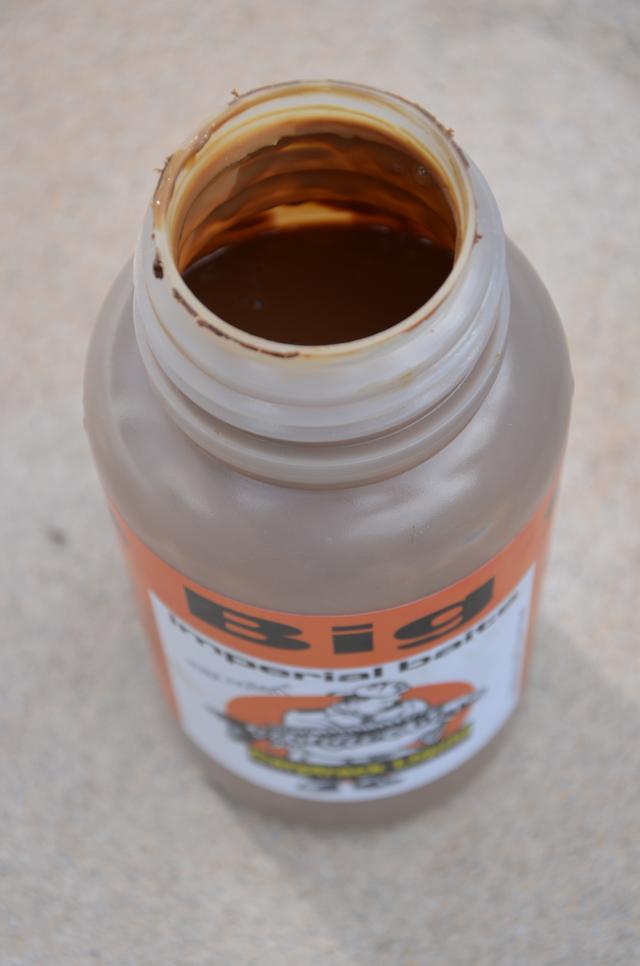 Scupi-Tipp im Falle Mo-Li Knödeln: Carptrack Liver

Alles auf einen Blick – let's go to pimp your baits!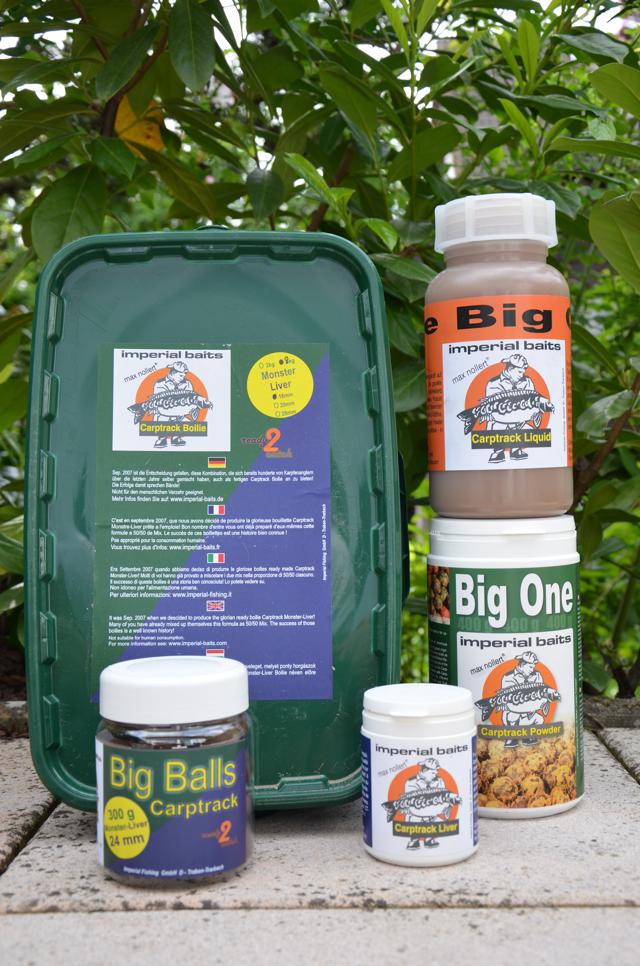 Bei diesem Beispiel greife ich bewusst auf 16 mm Boilies zurück, damit beim Vorfüttern meiner Spots eine wesentlich größere Fläche gefüttert werden kann. Die kleineren Knödel sind gerade beim Füttern ergiebiger und bilden ein größeres Futterfeld, wie beispielsweise die identische Menge an 20 mm Boilies. Am Haar selbst greife ich dann auf Carptrack Murmeln mit größerem Durchmesser zurück – daher der Einsatz der Big Balls in 24 mm!
Zum Mischen nehme ich eine zusätzliche Wanne, das ist am einfachsten bei der Menge an Knödeln… also, ab und rein damit!

Schnell das Döschen Big Balls hinterher – schließlich sollen diese identisch gepimpt werden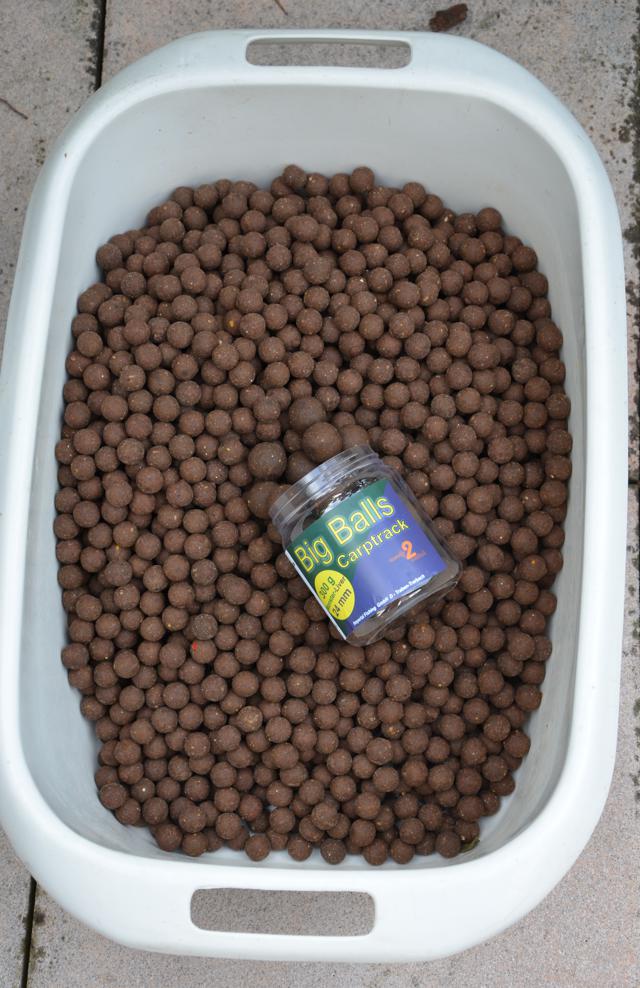 Carptrack Powder darüber…

…mischen… alle Knödel sollten jetzt überzogen sein.

Carptrack Liver hinter her… do it again!

Qualitätskontrolle durch Tümpelkrähe – einfach incredible!

Nun kommt ein guter Schluck Carptrack Liquid

Lieber anfangs etwas weniger und später nachdosieren – mix it!
Ordentlich vermengen ist ganz wichtig!

Das Endergebnis – ein absolut attraktiver Bait mit perfektem Pimp!

Ab zurück in den Eimer – fertig!

Ich hoffe doch mein kleiner Step-by-Step-Guide to pimp your Baits war ausführlich und hilfreich. Wie Ihr auf jeden Fall gesehen habt – alles völlig easy und unkompliziert. Ansonsten freue ich mich aber wieder auf die Gespräche mit Euch persönlich sowie natürlich den Austausch via Mail, PN und was weiß ich noch alles.
Falls Ihr noch weitere Fragen habt, welche für eine breite Leserschaft von Interesse ist, schickt diese doch einfach an: frag-padde@imperial.fishing.de
Titel: Meine Kolumne im Carphunters Magazine – stellt Eure Frage, ich freue mich!

Und gewinnt mit etwas Glück noch ein Köderpaket von Imperial Baits im Wert von 75 Euro!
In diesem Sinne, wir sehen uns am Wasser!
PATRICK 'SCUP' SCUPIN
Team Imperial Fishing
WWW.SCUPS-ADVENTURES.BLOGSPOT.DE
—————————————————————————————————————————————————————————
Neuer Scup Bericht auf www.fullrun.de
Scup's story from the bank – …viel gefeiert, viel passiert – und vieles wird passieren!