KLICK HIER UND ERFAHRE MEHR / CLICK HERE TO READ MORE!
————————————————————————————————————————————————————
JETZT ONLINE: iBoat Snapshots!
Direktlink in den Onlineshop – KLICK HIER!
Wir verkaufen unsere einwandfreien TOP Ausstellungsstücke und
aufbereitete iBoats zu sehr guten Preisen!
Noch zu haben sind folgende Modelle:
3 x iBoat 210
2 x iBoat 260
Direktlink in den Onlineshop – KLICK HIER!
ALLZEIT GUTE FAHRT!

————————————————————————————————————————————————————
SNOWCARPING
from David Fort
It was Friday 15th January…
My wife was going to her work on Saturday so there was a day off for me. There could not be not another plan than go fishing to my favourite river Labe. It was supposed to snow heavily over the weeknd so there was a real chance of catching a carp on snow. I called two of my friends to join me. I knew exactly where I want to fish. I know this spot well from the past and I was sure that if we should catch a carp in such a short time during the day, this is the right place.
We left early morning and started fishing about 7.30a.m. on Saturday. Surprisingly it didn´t take long and one of my friends (we call him Ferry Strawberry) had a first run with a smaller carp about 8kg. I don´t think it is necessary to mention what boilie he was fishing on when looking at his nickname 🙂
Than I was in the business with a small but very nice dark common on 1 x 20mm bottom Osmotic Oriental Spice. I really like how this boilie works in the cold water and it is definitely one of my favorites for this period of the year.
The weather was changing all day. It was snowing, than it was sunny for an hour.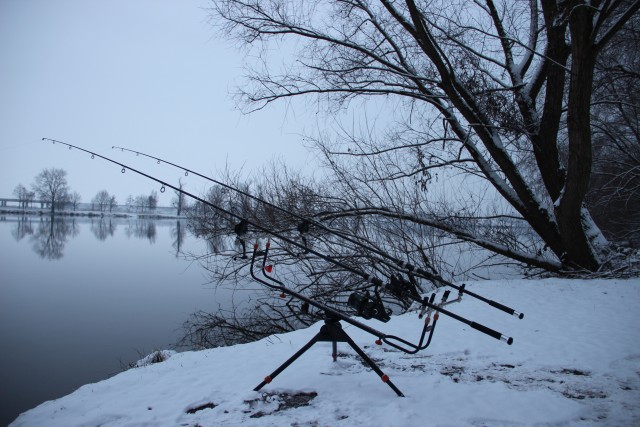 We did not have to wait long for another action and it was again Ferry Strawberry. This time it was the right fish – 14kg common! Few minutes after I got another smaller common on Osmotic Oriental Spice again. I had to leave about 3p.m. but before I did I caught a fat beautiful grey mirror on 1 x 20mm Elite Strawberry + 16mm pink V-Pop.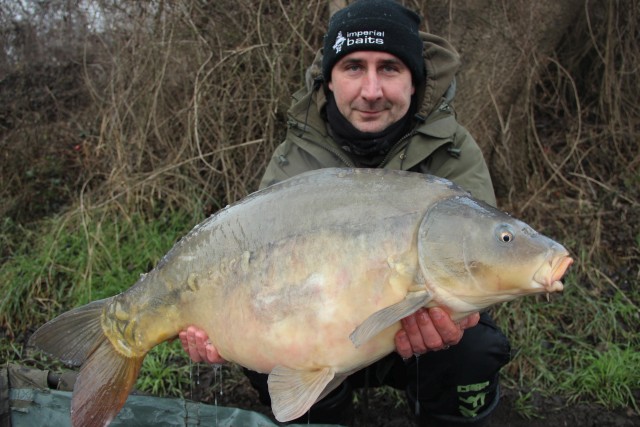 We had 8 carps until this time and there was still another one on the road!
I and Libor packed at 3pm as my wife sent me to pick up some goods from the shop that was closing at 4pm 🙂 We were lucky to get there at 3:52pm so I was lucky enough and when got home with my homework done, I could kindly ask for another free ticket to Sunday fishing 🙂 She was so nice and said "YES!" Cool! The plan was made in a minute and we arranged to meet in my house even earlier in the morning as morning hours seemed to be much more productive than afternoon. We were about to say goodbye when my phone rang. It was Ferry Strawberry hardly breathing and describing his lovely capture. He was already packed with his rods laying on the ground when one of them ripped off! What a fish!
The snow came overnight and it was a bit of complication. We could hardly get to the motorway and I knew it will be a big problem to get down to the river with my car. The snow was everywhere even on the motorway. "We must get there!" After one hour or so we finally got to the river. It was snowing heavily. We took out our gear, parked the car and it all started again! Carps weren´t that active as the day before. It was really getting cold and the water near to the bank started to get frozen. Libor had a first run after an hour of the session. It was a nice common.
The mission was done! We had a carp on snow.
It took about 2 hours when I had a strong run. The Twin Tip was bended and my alarm was screaming. I knew it will be the fish I came for. I asked Libor to take the camera and do some nice photos of the fight with a rod and reel completely frozen and covered with snow. He was just coming when his rod went off! Really crazy January situation. I was still fighting the fish when he landed his one. Finally after a long fight it was mine! Beautiful 14kg river common! Fantastic!
I wouldn´t dreaming it could be even better but when I saw Libor´s face I realized something is happening. There was a huge fat 17kg common in his net! Unbelievable!
In two January day sessions we caught 12 carps with 17kg king, 2 x 14kg, 12.70kg, 12kg and some smaller carp. We were using Elite Strawberry boilies together with V-Pops in Strawberry and Banana Flavour, Osmotic Oriental Spice and well done also for new Birdfood banana Cold Water version!

After all, again and again I must say "We love to fish!"
David Fort
www.imperial-fishing.cz
Team Imperial Baits Czech and Slovakia
————————————————————————————————————————————————————
NEW EDITION: IB Carptrack Birdfood Banana COLD WATER!
Jetzt erhältlich – klick hier!
16 & 20mm – SOFORT LIEFERBAR!
klick hier!
————————————————————————————————————————————————————
In Kürze: iBanana Rubber Logo!
12 x 12cm!
————————————————————————————————————————————————————
Weil gestern internationaler Jogginghosentag war:
noch bis zum 24.01.2016 auf alle IB JOGGER's 10% Rabatt!
KLICK HIER UND GELANGE ZUM JOGGINGHOSEN ANGEBOT!