Tour de France – the rider in the yellow T-Shirt wins!
Tomas Blazek & Martin Hrdy – www.imperialbaits.cz
Neben etlichen Cassien Karpfen waren bei diesem Trip 5 Fische über 20 kg dabei. 2 Davon durchbrachen mit 25 und 27,8 kg sogar die magische 50 Pfund Marke!
Solche Zahlen sind für den Lac de Saint Cassien in nur 1 1/2 Wochen angeln längst nicht mehr normal. Tomas Blazek und Martin Hrdy sind Cassien Experten und wie so oft, ließen sie die anderen Teams am See ziemlich alt aussehen.
Lesen Sie im folgenden einige Zeilen von Tomas Blazek, in denen er kurz den Verlauf des Trips beschreibt. In der großen Bilderstory mit 81 selektierten Fotos erwarten Euch immer wieder einzelne Zeilen zum Thema Futter und mehr…
Tomas Blazek – www.imperialbaits.cz
I would like to say hello to all Imperial Baits friends. I went to a trip with my friend Martin (Haba) Hrdy to catch french carp.
We had a few waters in south France in our eyes. When we start the journey we did not know where we will stay at the end. After we were checking a few lakes we have made a stop on mystic St. Cassien to visit our friends who fish there very successful for a couple of days. I made a deal with Martin to stay here and remember old gold times!
The new Cassien adventure began!
We started to fish around the area of the big bridge and on the first morning I caught a carp with 21 kg – YES! From the last years we know this location very good so we know about the secret to catch the local carp on this spot. This one was caught with a pink V-Pop Up dipped in Flavour Banana and Carptrack NHDC – the original, wrapped in dough of Carptrack Liquid & Powder and Power Powder Cream with GLM full-fat.

It was the right decision to stay here and we know that carps are still before spawning.
We have a very good chance to catch BIG ONES!

We fed to each line about one kg of Carptrack Monster's Paradise Boilies, Fish, Worm Up and one handful of Aminopellets. After three days of fishing during day and night we became news about the night fishing stop from 27th of March. Regarding that we have caught the carp during day and we decided to stay here and fish only during the day.

Every day a very big and nice fish took a look on our bank. We were waiting for a cherry on a cake. We have caught the fish with 27,8 kg on the last morning again with pink V-Pop Up with paste!

We had a reason to celebrate!
Maxhof Sekt-Glas-Set "Mäxchen for the Big One"

Totaly we caught 5 carp over 20kg and the two biggest carp had a weight from 25 and 27,8kg!

We fed totaly about 100kg Carptrack Boilies which was really tasty for the fish.


—————————————————————————————————————————————————–
IB – DEALS – Qualität trifft Quantität
Bei größeren Futtermengen, gerade für Frankreich oder andere Urlaubstrips, empfehlen wir Euch unsere IB-DEALS zu nutzen! Qualität trifft Quantität!
click to enlarge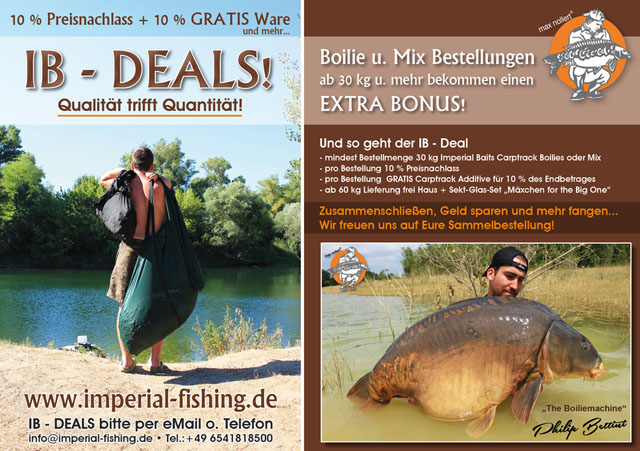 —————————————————————————————————————————————————–
We wish you a nice moment with our pictures and good luck for your spring trips.
Tomas "Imperialman" Blazek and Martin "Haba" Hrdy
Excellent food, not only for carp!

Our Hooks! We NEVER fish without Carptrack Liquid & Powder paste!

A big common carp for Tomas

A fish from the second night

The long one!

The spawning time began

Nice to see in the very clear Cassien water

We love the south of France – chilling in the sun!

Each boilie has to be pimped! Never without Carptrack Additives!

Sometimes we soak our boilies in lake water to let them age faster

We use PVA on every hook bait filled with Carptrack Explosiv Stickmix, 4mm Amino Pellets and crushed boilies like Uncle Bait "The Boilie".

A broth of Particles, Pellets, Boilies…

Daily ACTION!

French breakfast

And a nice carp

We stay fit! 🙂

Hrdy tight his rigs

Big Baitpimp with Carptrack Powder and inP!

Mhhhhhh delicious!

Say YES to Carptrack Liquid & Powder paste!

We dip our leads in Carptrack Amino Gel Monster's Paradise!

Desire for meat?

Sundown at Cassien! Stop fishing and have a good meal!

Early in the morning – all rods are out again!

Hrdy with a BIG FISH…

…over twenty! 🙂

Another Big One for Tomas

THANK YOU CASSIEN!

We use the Amiaud Combi Carpo black orange style!

French carp love French baguette!

From the left to the right:
Carptrack Amino Gel Worm Up, Amino Gel Monster's Paradise, GLM full-fat and inL

Carptrack Elite boilies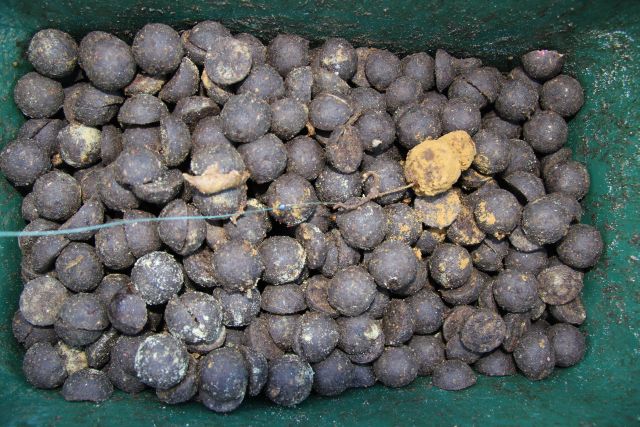 A rig with Carptrack overwhelming Liquid & Powder paste!

Big Cassien Common!

What an old fighter…

It's lunch time again 🙂

In the midday heat…

Mystic Cassien, I love you!

Hrdy with the most wonderful fish!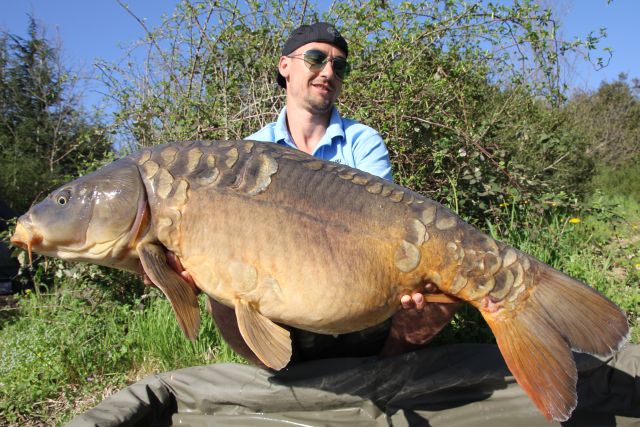 The Beauty!

Sun is shining – weather is sweet!

Spawning time for carp

What the HELL is this??? I want to have it! 🙂

Yes, good food in France is written very big!

Bon appetite!

We spent a lot of time to cook…

…sometimes we were fishing too! 🙂

But than cook again!

And now let's eat and enjoy the wildlife!

Every day beautiful girls row across the sacred lake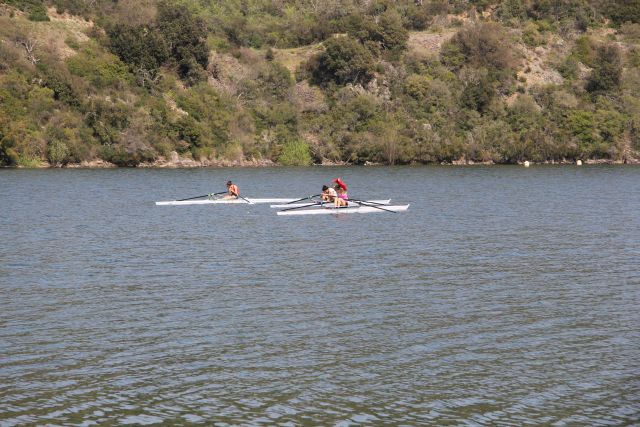 With the iBoat 160 I went on expedition…

—————————————————————————————————————————————————–
Rent'n iBoat! Ab sofort 160, 260, 320, 400!
click to enlarge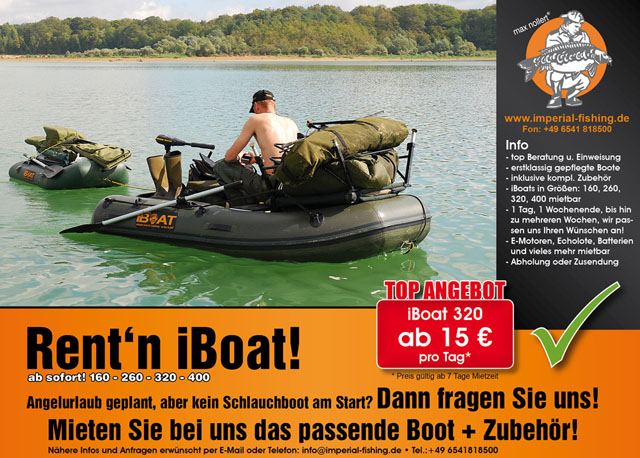 —————————————————————————————————————————————————–
Here are the carp and spawn!

The iBoat 160 – my favourite for short assignments!

A black mirror carp

And then it crashed right!

27,8 kg for my friend Hrdy!

The biggest fish on our Cassien trip!

YES – we were more than happy!

He loves the Imperial Baits Carptrack food!

Without our Imperial Baits products, we have NEVER achieved such a result on Lac de Saint Cassien!

We tight many ready rigs to change them quickly!

Martin with a common carp…

…a perfect one without damage!

The last fish! Say good bye!


Team Imperial Fishing CZ
Tomas Blazek & Martin Hrdy
www.imperialbaits.cz
—————————————————————————————————————————————————–
Es war letzten Freitag morgen 7:00 Uhr in Deutschland
Uncle Bait "The Boilie" BIG ONE! Heinz Windeck mit 28,7 kg!!!
…aufgeregt und stammelnd hinterlässt uns Heinz nur folgende Informationen am Telefon:
"Köder: Uncle Bait "The Boilie", gefangen auf 4 Meter Wassertiefe! Der Biss kam um 7:00 Uhr morgens auf einer Entfernung von 450 Meter. Gedrillt und gekeschert vom kleinen iBoat 160 aus!!!
Der Fisch stand bombenfest unter einem Busch, ein Kampf auf biegen und brechen und das von diesem kleinen Wahnsinns Boot! Ich öffnete die Rolle, entfernte mich von dem Baum, schloss die Rolle und paddelte mit Gefühl weiter. Der Fisch kam wie ein Hund an der Leine aus dem Busch heraus! GEIL!"
Die ganze Story schon bald in einem der kommenden iBlog Updates!

—————————————————————————————————————————————————–
Nika Hentig, Robert Eckardt, Anja Schinz, Michael Blasius, Frank Duden,Tanja Matthei, Sanne Rüffert-Hermanns, Jana Melzer, Joachim Lalk, Jonny Hadwiger, Sascha CarpFishing, Milis Issis, Klaus Sommer, Susanne Neumann, Anna Niedenzu, Ulf Klos, Lukas Bradler, Christian Nikulka, Rolf Wüller, Ste Phanie Be Ckel, Mario Sundrup, Monika Dalmatiner-Prinz, Marco Wolf, Sabrina Kennstenicht, Thebigone Michi, Jens Je, Uwe Mrotz, Steffen Rüger und Christian Möllers
Bitte sendet uns in den nächsten Tagen eine E-Mail mit dem Betreff "Facebook Gewinnspiel" und Eurer genauen Anschrift an: info@imperial-fishing.de
—————————————————————————————————————————————————–
Team Imperial Fishing wünscht dicke Maiböcke!