klicken zum vergrößern / click to enlarge

SONDERAKTION – nur solange der Vorrat reicht!
max nollert Temptation Twin Tip + zweites weicheres Handteil GRATIS dazu!
Sie haben also 2 komplette Ruten zum Preis von einer!
349 € geteilt durch 2 = 174,5 € pro handgebaute Rute der Extraklasse!
—————————————————————————————————————————————————–
Kauf ohne Risiko
– zu günstigen Versandkosten – nur 6,50 € bei Vorkasse
– mit 14 tägigem Rückgaberecht!
– unbeschädigte Ruten werden vom Abholservice an Ihrer Haustüre zurück genommen
– Bei Rückgabe tragen Sie keine weiteren Versandkosten!
– Lebenslange Garantie!
—————————————————————————————————————————————————–
Tschechischer Weitwurfrekord mit der neuen IB Rute
"max nollert Temptation Twin Tip" geknackt!
von Tomas Blazek
Hello Max,
ich bin zurück von unserer "Casting Competition" und möchte über die Ergebnisse berichten.
Der Wettkampf wurde mit der neuen Max Nollert Temptation Twin Tip Karpfenrute durchgeführt.
Zum Einsatz kam natürlich die härtere der beiden mitgelieferten Oberteile, die 3,5lb Version.
Alle Komponenten wie Rolle, Schnur, Gewicht, Rig, Boilie usw. mussten bei jedem Wurf exakt gleich sein. Ein Helicopter Rig mit einem 90g Blei, einem 10cm langem vorfach und 20mm Uncle Bait "The Boilie" bildeten die perfekte Weitwurfmontage. Diese ist absolut verwicklungsfrei in allen Wurfsituationen.
Von Carp'R'Us gibt es dafür vorgefertigte Helicopter Leader, dessen Handhabung absolut einfach sind. Diese kann ich nur jedem empfehlen, der weit raus werfen will und 100% sicher sein möchte, dass die Montage sauber am Grund ankommt.
Noatriell beglaubigt
Ein Notar stand bereit und überprüfte vor jedem Wurf sehr genau, ob alles korrekt montiert war.
So konnte er den neuen Rekord in das "book of records" eintragen.
Insgesamt waren 30 passionierte Werfer am Start und jeder hatte 3 Wurfchancen.
Last but not least
Mit meiner letzten Chance feuerte ich das Helicopter Rig auf 167m Distanz.
23,5m weiter als der vergangene Rekord aus dem Jahre 2010!
Nun möchte ich ein paar Bilder des Events sprechen lassen…
Man sah mir die Aufregung nicht an – keep cool! 😎

Dann war ich an der Reihe

Letzter CHECK und dann…

Chance Nummer 1: FEUER FREI!

Und die Montage flog und flog und flog…
Meinen Mitbewerbern wollte ich das Fürchten lehren!

Fragende Gesichter: "haben wir eine Chance?" 🙂
Der erste Wurf war gut, aber lange nicht gut genug…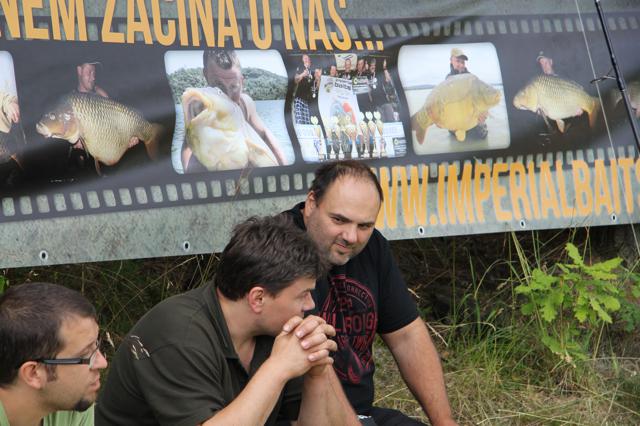 Ein Helicopter Rig mit einem 90g Blei, einem 10cm langem vorfach und 20mm Uncle Bait "The Boilie" bildeten die perfekte Weitwurfmontage.

Der Nächste Teilnehmer hatte geworfen, nun galt es die Distanz fest zu stellen

Für den richtigen Wurf ist eine optmale Körperspannung von Nöten!
Für die Temptation Twin Tip war es eine Härteprüfung der Extraklasse!

132m – ein guter erster Wurf!

Ich trat an zu Chance Nummer 2

"Wird er mit der neuen Rute einen neuen Rekord erreichen?"

And… GOOO!

Wieder flog die Montage weit raus, aber ich war noch nicht zufrieden mit meinem Ergebnis!

Jeder konnte zeigen was er drauf hat und hatte insgesamt 3 Wurfchancen

Die neue entwickelte Twin Tip Rute wurde hart beansprucht. Bei solchen Events kommt es häufig vor, dass andere Ruten brechen. Die Twin Tip hielt allen Belastungen stand!

Ein gefährlicher Kontrahent ging an den Start…

Mir war Angst und Bange bei diesem Wurf, schaut Euch die Wurfenergie an!

Er kurbelte die Montage ein und das Ergebnis war…

Genau 150m! Wuh, jetzt musste ich alles geben, denn er hatte den bisherigen
Tschechischen Rekord bereits geknackt!

Zähne zusammen beissen und "hämmern" was das Zeug hält!
Die Rute lud sich richtig stark auf und schleuderte die Montage Richtung anderes Seeufer!
Was für ein hammer Material, durch die stabilisierende Epoxylackierung am Verbindungsstück lassen sich stärkste Gewaltwürfe ohne Bruch meistern.
So war es mir möglich den neuen CZ Weitwurfrekord aufzustellen
Mit diesem Wurf und meiner letzten Chance, waren es genau 167m!!!
DANK der max nollert Temptation TWIN TIP!

Siegerehrung am Ende des Events

Für jeden gab es Preise in Form von dem neuen Uncle Bait "The Boilie"

Abschließender Kommentar:
Seit Beginn der Temptation Rutenserie von Max Nollert im Jahre 2003, fische ich diese Rutenrange. Über die Jahre konnte ich stets die Weiterentwicklung miterleben, denn ich hatte immer die neusten Modelle im knall harten Einsatz.
Mit der Temptation MKII konnte ich im Jahre 2010 erstmals den Tschechischen Weitwurfrekord von 143,75m aufstellen. Ein Casting Event das damals für Furore sorgte und dadurch geriet die Temptation MKII Rute sehr stark in den Focus vieler Karpfenangler.
Auch mit diesem Modell war ich vollstens zufrieden und schon kurze Zeit später übertraf Max Nollert erneut meine Erwartungen mit der Vollendung der "max nollert Temptation MKIII".
Mit dem jüngsten Modell, die parallel zur MKIII eine zusätzliche Version bietet, die Temptation Twin Tip, gelang es mir sogar den alten Rekord um längen zu toppen. Eine Rute die man nicht besser hätte konstruieren können. Die jahrelange Entwicklung, stetige Verbesserung und das optimal durchdachte Rutenprinzip, lässt keine Wünsche mehr offen!
Cheers – Tomas Blazek www.imperialbaits.cz

Folgend noch 3 Detailaufnahmen:


Tomas Blazek
Team Imperial Fishing Tschechien
www.imperialbaits.cz