Happy New Year liebe Karpfenangler
und ein großes DANKE an alle die "Imperial Baits" als beste Ködermarke
beim Tackle Award vom Carp Mirror 2007/2008 gewählt haben!
Ihr könnt weiter auf uns zählen und Euch bereits jetzt auf den neuen Katalog freuen, der ca. mitte Februar erhältlich sein wird.
Jake Langely Hobbs – The Blog
Ja, das ist auch etwas Neues.
Jake wird ab sofort seinen eigenen "The Big Carp Hunter Blog" begleiten in dem er Euch TÄGLICH über die Geschehnisse am Wasseer berichtet.
Und hier ist bereits ein Preview dazu, der nun in den folgenden Tagen nicht nur tägliche Updates bekommt sondern auch technisch weiter entwickelt wird.
Ebenso ensteht ein Logo zu diesem Blog, welches ihr als Verlinkung auf der Startseite von www.carp-gps.com sehen werdet, um möglichst schnell einen Blick zu riskieren, ob es heute neue Fische, neue Stories oder sonstige Neuigkeiten von Jake gibt.
Aber auch hier auf den News wird es mit ausführlichen Berichterstattungen von Jake selbstverständlich weiter gehen. So wie mit dieser vom St. Cassien an dem er kurz vor Weihnachten wieder startete.
Viel Spaß!
max nollert
Xmas and New Year at my favourite place…Lac de st.Cassien!!
Hello everyone and happy new year. I hope you had a nice xmas, and if you were out fishing…you caught some nice carp!
I am at Cassien till Febuary but here is my news so far….More big ones…wait and see!!
When i arrived from Carces the water levels were still low, so i decided to take a gamble, as much rain was forecast. I set up at american beach in the west arm. Hoping the rain would come in buckets, the water would rise and with it come the fish…..IT RAINED!!!!!! AND RAINED!!!!!
I set the bivvy up in the rain and slept the first night. No rush…The following day i slowly got things sorted and gots the rods prepared, the boat inflated and everything in place. Two german guys, Patrick Pammer and Prince Phillip had arrived in the night and were already set up and very keen for the action to start.
My first run came on saturday night just as the wind picked up, it blew my boat around and into the rocks at the edge of the lake and the hook pulled..ouch! I had to wait till Monday morning till my next run came @ 10am. It was still raining by the way…. A spirited 10kg mirror was the culprit, but it was my 1st fish of the session, so i was happy to be off the mark…This fish however moved one of my lines during the fight, so i had to put the rod back out afterwards. I put it in a new position and 20mins later i had a run….
The weather had turned for the worst, strong winds and driving rain, but i got everything sorted and the fish was caught. It was a good one…We weighed her back at the shore and 24.5kg was the agreed weight. Patrick had just caught a 21kg Common, an hour earlier so it was a double celebration!!!
I recognised this fish later as one i had caught back in March at 23.5kg. Always nice to meet old friends. I kept picking up the odd fish over the next few days but mainly small ones…to 12.5kg. Still it was good sport. The rain stopped and the good weather came. Very cold nights but i was warm with my new bivvy heater!!
Patrick and Prince Phillip left on the saturday the 20th. They had had a great session, Patrick took 4 commons over 20kg…rare for Cassien. The biggest was 26.5kg. well done mate. Phillip had a few carp to 18kg….on his first trip to Cassien…congratulations.
I took a couple more fish on the saturday to 10kg, and was just wondering if i would catch another big one…i had a run at 3am on sunday morning. You won't believe what i saw in my net…The 24.5kg carp AGAIN!!!!
I weighed her in the morning as i thought she would weigh the same. Much to my delight she had put on over half a kilo in just 6 days. 25.05kg. We did the photos with me smiling and i returned her to live another day.
All my fish had fallen for Imperial Baits Carptrack Fish Boilies, using my 360 rig fished snowman style. The pop-up i used was a V-Pop white / orange v-pop soaked in the Carptrack Fish Amino DIP. I find this works very well. As usual i was not over feeding. 5-10 boilies is all i was introducing to get takes.
Xmas came and i did not catch a xmas day carp

I caught a few more over the next couple of days to 13.4kg taking the total to 15 fish. I then decided to move swims, as the Arm would be closing on Jan 01 09. I packed up my stuff and headed back round to Jakes Swim….Aviron!!
I was happy to be back. I did not think the swim had been fished for some time actually so my plan was to fish 4 spots and introduce 25 boilies to each area using the Boomerang every day at lunchtime. I know this area is a good passing place and i wanted food to be available if any big mouths passed.
On the 3rd night at 8pm i had a run. From a plateau at 11ft. After a very short fight i saw a big fish under the surface. I got her in the net and knew it was 25kg+++ I caught her using a two boilie stringer cast to the plateau at a range of 40 yards. Bait was a Carptrack Fish Boilies 20mm and a Flying Fish Hookbait.
Back on dry land she weighed….26.8kg…My second biggest carp to date. And my 5th carp over 25kg in 11 months. Thankyou Cassien!
Hopefully i will get a few more before my session ends in Febuary!!!!
4 vereiste Legend Carp 13ft / 2,75 lb warten auf den Bg One…

26,8 kg

26,8 kg

26,8 kg

26,8 kg

24,5 kg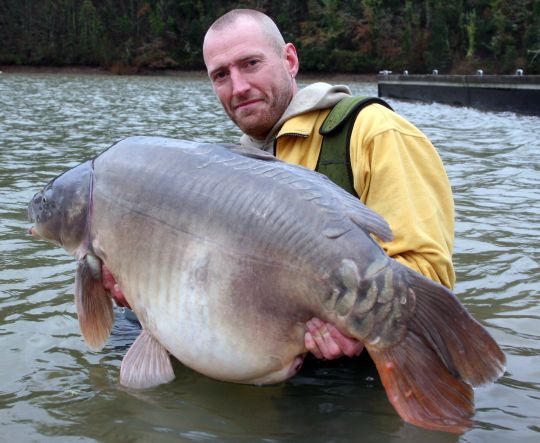 Der gleiche eine Woche später mit 25,05 kg – gleicher Platz, gleiche Montage, gleicher Köder!

Prince Phillip konnte bei seinem ersten Trip bis 18 lg fangen!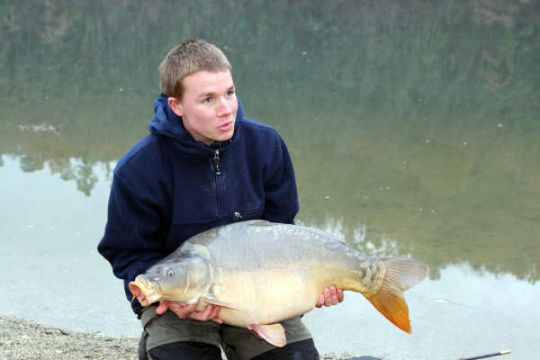 Patrick Pammer landete 4 Schuppenkarpfen über 20 kg bis 26,5 kg!

I will let you know. Till then tight lines and keep hauling!!!
Jake Langley-Hobbs
Team Imperial Baits
Neues von den Zandern aus der Mittelmosel
Uli Wendhut konnte vor 2 Tagen einen riesigen Zander mit 19 Pfund fangen.
Erfolgreich war er mit einem Gummifisch aus der Range von Jan Gutjahr. Mehr dazu auf www.fanatic-fishing.de
Vor ca. 2 Stunden hatte ich dann das Glück diesen Zander zu fangen. Der Twister hing hinter dem Kiemenbogen. Entsprechend stark hatte er gezogen und ließ zunächst auf ein wesentlich größeres Exemplar hoffen….
Morgen mehr in diesem Update von der Frozen Session von Peter Schuh und mir am Fluss…..