Eisige Grüße zum frostigen Februar – so schell kann sich das Blatt wenden!
Momentan zieht diese, erst vor Kurzem angekündigte Kälte durchs Land und lässt so manch ein Gewässer entgültig unter einer dicken Eisdecke verschwinden. Endlich Zeit für andere wichtige Dinge im Leben, die eventuell im Laufe der Saison etwas vernachlässigt wurden. Auch wir haben uns diese Zeit zu Nutze gemacht und stellten innerhalb der letzten 2 Monate einen neuen Onlineshop für Euch auf die Beine bzw. ins Netz.

Carp-Girl 2011
Auch das Carp-Girl Voting erfreute sich einer regen und erregten Beteiligung und wie angekündigt stehen seit heute Nacht die Siegerinnen fest, die wir Euch nicht nur in in diesen NEWS präsentieren.
Und die Show wird weiter gehen, die ersten Einsendungen für das Carp-Girl 2012 sind bereits eingetroffen. Lasst Euch Zeit, es wird bis zum Jahresende noch viele Momente und Möglichkeiten geben, in denen Ihr neue Bilder beim Karpfenangeln machen werdet und im Dezember für das Carp-Girl Voting einsenden könnt – freuen wir uns darauf!
Messe
Immer weiter, immer weiter und am vergangenen Wochenende besuchten wir die Karpfenmesse in Hannover, dazu haben wir einen kleinen Rückblick aufgearbeitet. Morgen geht es schon nach Zwolle (Holland) wo wir Euch 2 Tage am Stück unsere Produkte präsentieren werden. Wir freuen uns auf Euer Intertesse!
Fänge
Aljoša Borkovic ist dran geblieben und fängt weiterhin seine Winterkarpfen und teilt uns seine Wintertaktik in einem kurzen Beitrag und tollen Bildern mit. Matias aus Slowenien war für eine Woche in Österreich unterwegs und konnte dort Fische bis 24,2 kg auf selbstgerollte Boilies aus Carptrack Mixen fangen.
Zsolt Bundik zeigte uns im letzten Update tolle Eindrücke aus Spanien und hält nun zusätzlich zwei neue wunderbare Videos für Euch bereit.
Viel Spaß und Grüße von der Mosel,
Julian Jurkewitz & max nollert
Imperial Fishing – Erlebnis Onlineshopping im neuen Gewand
Seit dem 31. Januar 2012 online!
9 Jahre lang hielt der bekannte schwarz/gelbe Online-Shop unter der URL www.Carp-Gps.com weit über 10,1 Millionen Besuchen stand. Damit hat er hervorragende Arbeit geleistet, wie wir finden! Doch es war an der Zeit die Technik und das Design dem neuesten Stand anzupassen – und das haben wir getan!
Euch erwartet eine übersichtliche "quick view" Produktpräsentation, sowie ein sich selbst erklärender Bestellablauf mit Blitzversand Option!
Aktuelle Bilder und viele Informationen rund um das jeweilige Produkt runden das kleine "Erlebnis Onlineshopping bei Imperial Fishing" ab!
Wir freuen uns auf Euren Besuch!
Team Imperial Fishing

Das Carp-Girl 2011 steht fest!
The Voting is over and the results are fixed.
Congratulation to Eleonora Silvestri being the Carp-Girl 2011!

The first 8 places did win prices for a total value of more than 3000,00 €!
First Place: Eleonora Silvestri did win an iBoat 320 value of 1050 €
Second Place: Tina Rentz did win an iBoat 260 value of 999 €
Place 3: Claudia Darga did win an iBoat 160 value of 449 €
Place 4-8: Anita Schweinzer, Stéphanie Chesnau, Pamela Heier, Bianca Segel, Ramona Heber did win 10 kg Carptrack Boilies value of 119,80 €
We also do not forget the e-mail voters and as promised we did draw lots for:
First price: Maik Höner did win an iBoat 160 value of 449 €
2nd and 3rd Price for e-mail voters: Thorsten Witt and Petra Haselwallner did win Carptrack Boilies value of 119,80 €
Thank you very much for any participation! The decision is final.
max nollert
Rückblick Carpmeeting Hannover
4 Mann à 10 Stunden = 40 Stunden Aufbau, dann war es wieder geschafft! We love it:-)

Die ersten Gruppen betreten die Halle.

Werner Mörs ist in Position und berät im Tackle-Eck.

Julian Jurkewitz lässt die Carptrack Amino Dips durchschnuppern…

Thorsten Illig zieht im Bait Kiosk wie immer die Aufmerksamkeit auf sich

Auch die iBoats 160, 260 und 320 standen bereit

Thorsten Illig gab viele Tipps zur Anwendung der verschiedenen Carptrack Additive.

Am Ende waren alle happy – denn die Messe haben wir mit Euch gerockt!


Team Imperial Fishing
Matias
Hi Max!
End of September I decided to go fishing in Austria for one week, I was using Carptrack Monster-Liver, Carptrack Monster's Paradise and Carptrack Explosive Stickmix boilies. Fishing was very successful and I caught some big carp with help of Imperial Baits products:
13 kg koi carp – 15 kg – 16.5 kg – 19 kg – 22.2 kg – 23.9 kg – 24.2 kg
Im Endtacklebereich vertraue ich auf Korda Produkte.

Meine Hakenköder ummantel ich mit Carptrack Liquid/PowderPaste…

…diese wird ca. im Volumenverhältnis 1:6 aus Carptrack Liquid und Powder hergestellt.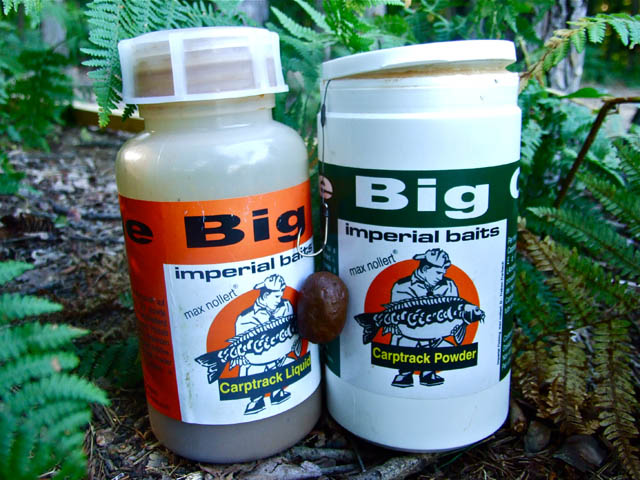 Meine selbstgemachten Dumbelz aus Carptrack Mixen!

Die auffällig roten Boilies rollte ich aus Carptrack Explosiv Stickmix.

Weiße Pop-Ups üben einen starken Reiz auf Karpfen aus – immer weider!

Die Ruten liegen bereit

Auf den ersten Fisch muss ich nicht lange warten!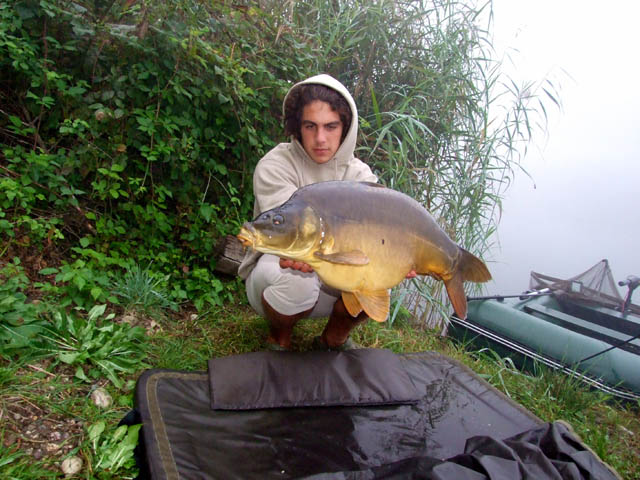 Hier als Köder selbstgerollte Monster's Paradise Dumbelz aus dem passenden Mix.

Köder auf die ich mich zu 100% verlassen kann!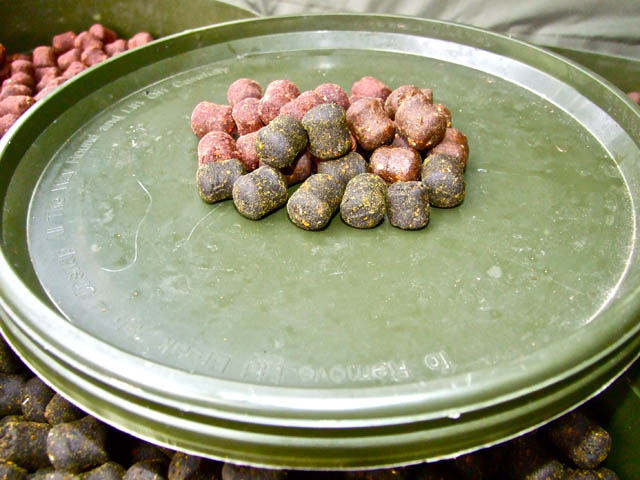 Auch Maden sorgen in manchen Situationen für mehr Biss.

Eine Perle der Natur…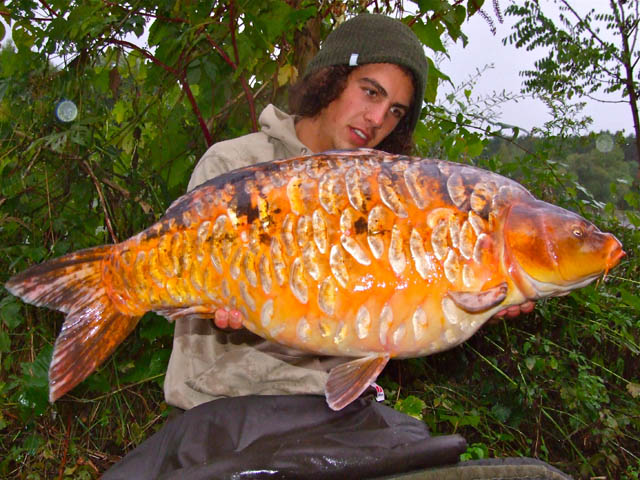 …ein Koi Karpfen der Extraklasse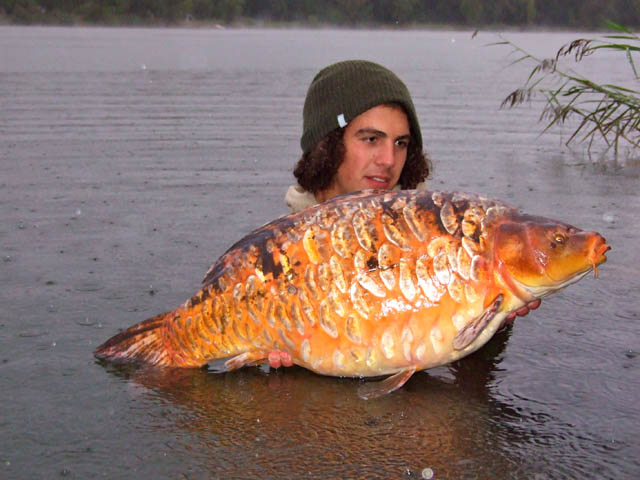 Ein großer Schuppenkarpfen war am Hakenkäder – Monster`s Paradise

Korda Kurv Shank und N-Trap Vorfachmaterial

Nach den beiden Fischen musste ich meine nassen Klamotten trocken bekommen

Und dann knurrte der Magen, die Würstchen kamen mir gerade Recht!

Verdauungsnickerchen, Seele baumeln lassen und auf den nächsten Fisch warten

Flying Hookbaits Monster's Paradise 16 mm

Und dann ging es mit diesem dicken Spiegler weiter

24,2 kg bring der stattliche Fisch auf die Waage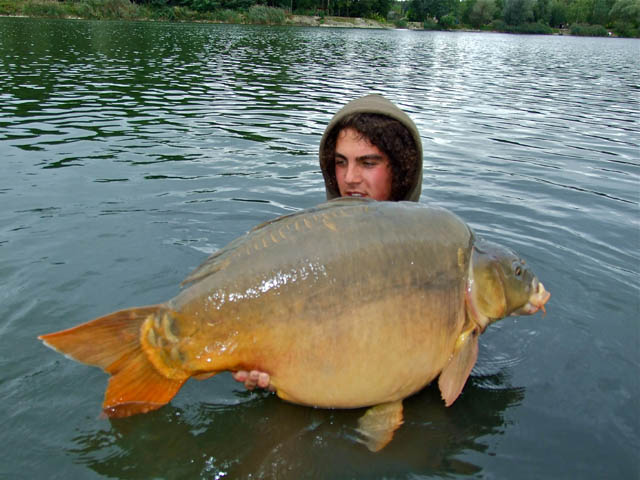 Schon kurze Zeit später geht mir der Nächste ans Band

Meinen selbstgerollten Boilies/Dumbelz aus Carptrack Mix sei Dank!


Eine Zeit lang bleibt es ruhig…
Ihre geballte Kraft wird weiter Wirkung zeigen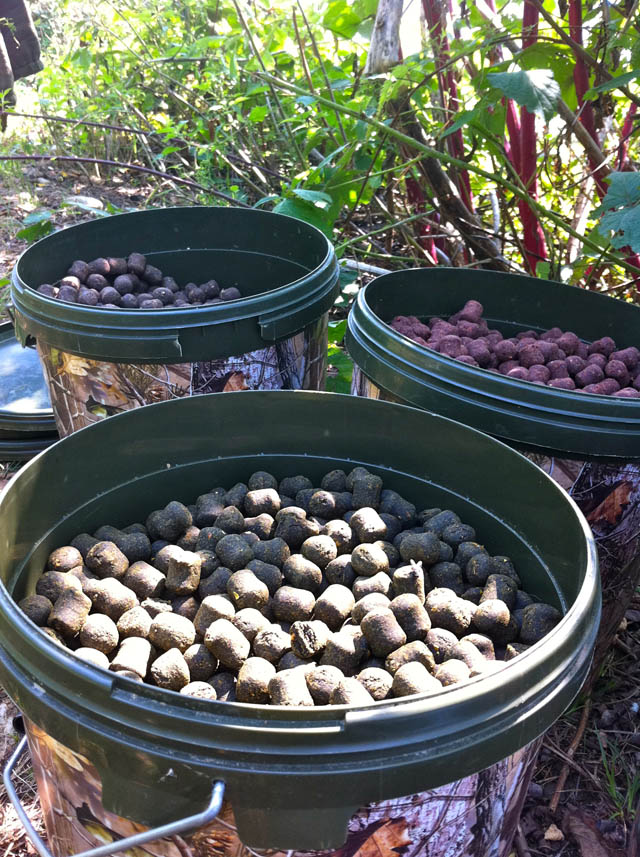 Der Schuppenkarpfen brachte neue Action
Das leibliche Wohl kommt bei mir selten zu kurz, doch oft wird man untebrochen…

…für diesen Fisch legte ich gerne eine Essenspause ein 😉

Catch me if you can!

Meine vorgebundenen Rigs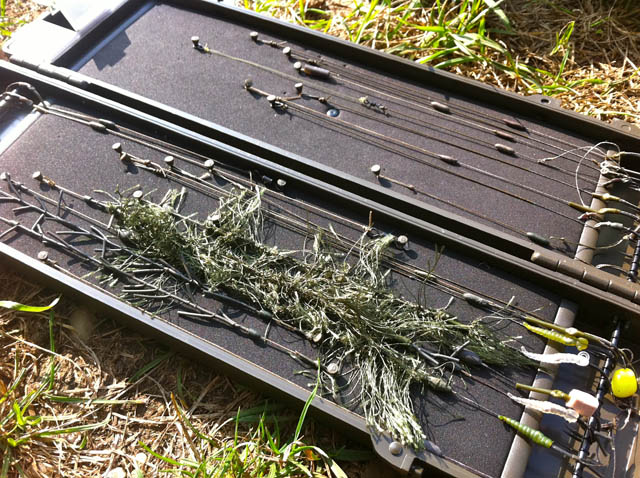 Den Abschluss bringt mir dieser schöne markante Spiegler! Auf ein Neues…


Matias
And now get the big One out!
Aljoša Borkovic – www.imperial-baits.si
The last days of fishing
Last few days in December I dedicated to my passion carp fishing. I made a few daily fishing trips on the lake Bled. In spite of cold water I had great success. Almost every fishing day I finished with a catch. The successful combination was: Carptrack Birdfood Banana boilies with flavour Carptrack Fruit and Carptrack Tangerine essential oil. I was fishing with the combination of PVA sticks filled with grinded banana bolies, Carptrack power powder banana spilted with Carptrack amino dip. Below you can also find my story through the objective.
Winterfisch

Ein wunderbares Gefühl

Catch & Release – our passion!

Carptrack Banana Boilies + Power Powder Banana

Die Hakenköder behandelte ich zusätzlich mit Fruit Flavour und Tangarine Essential Oil!

Kleine Explosive Stickmix Bomben gehören bei mir dazu.

Dank guter Vorbereitung laufen die Fische auch bei eiskalten Temperaturen…

Wenn im Winter die Sonne heraus kommt, sind das ganz besondere Momente!

Und auf besondere Momente folgen besondere Fische 😉


Aljoša Borkovic
Team Imperial Fishing Slowenien
Zsolt Bundik
Nachdem Zsolt bereits im letzten Update eine Bilderstory vom Ebro in Spanien präsentierte, hält er nun noch 2 Videos für Euch bereit!
Sehr toll gemacht wie wir finden und sie laden zum Verweilen ein – have fun 😉
Ebro Video 1
Ebro Video 2
die komplette Text und Bilderstory findet Ihr hier!


Zsolt Bundik
Team Imperial Fishing Ungarn