Weltrekord Schuppenkarpfen mit 38,6 kg aus Deutschland!
Dieter did it again – with Carptrack Fish Half`n Half! Carptrack Half`n Half Fish!
Nachfolgend ein paar Worte von Dieter-Markus Stein. Ein ausführlicher Bericht über sein Jahr 2008, eine Auschlitzerserie und wie er dies wieder in den Griff bekommen hat und letztendlich den neuen Weltrekord Schuppenkarpfen fangen konnte, lest Ihr in den kommenden
Carp Mirror.
"Naja, eigentlich stand ein anderer Fisch und nicht Sie auf meinem "Speisezettel".
Ist die Schnur aber erst mal nass, die Hausaufgaben gemacht, hat man<!smiley4> es dann doch nicht mehr wirklich in der Hand, wer sich dann am Haken verirrt.
Dass sie mich dann ein zweites mal mit Höchstgewicht beehrt, ist wohl nicht zuletzt einem aussergewöhnlichen Köder,
dem Half`n Half Hookbait (Carptrack Fish mit Black Pepper) und einer Jahreszeit zuzuschreiben, an dem die Fische meisst Höchstgewicht haben.
Die Rede ist natürlich von der lieben Mary, die wieder einmal den Mount Everest der Schuppenkarpfen darstellt und sich selbst toppt.
Status quo: 38,6kg -Tendenz wohl steigend – Adrenalienschub inbegriffen!
I love to fish <!smiley1>
Dieter-Markus Stein
Das Futter:
Carptrack Fish Mix, abgedreht mit Carptrack Fish Flavour, Carptrack Black Pepper und Carptrack Liquid Amino
Die fertigen Boilies wurden nachträglich benetzt mit den ELITE Inhaltstoffen 10 g / kg Carptrack inP und 10 ml / kg Carptrack inL

Der Hakenköder
Carptrack Half`n Half Fish

Die Waage

Schwerstarbeit Der Fisch wurde im neuen Carpsack Exzellent sicher bis zur Photosession aufbewahrt. Das Handling sowie Dimensionen sind selbst für soch einen Ausnahmefisch asusgezeichent, so Dieter Markus Stein am Telefon, kurz nach der Photosession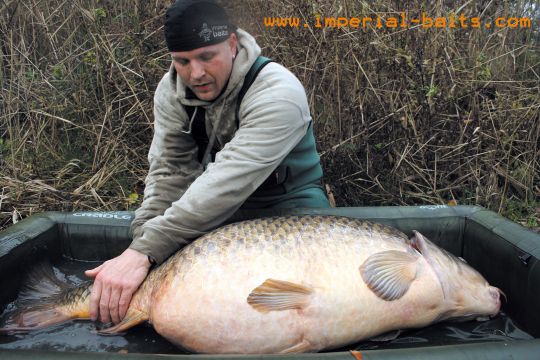 38,6 kg! Der Fisch wurde dieses Jahr trotz hohem Angeldruck nur 2 mal gefangen!

Dida, did it again!
Dieter wir gratulieren Dir!
…and now get the big one out<!smiley3>!
Dieser Satz entstand übrigends bei einer solchen Photosession 1995 am Reservoir du Charmes in Frankreich. Damals filmte ich einern Franzosen der einen 28 kg zurück setzte. Sein Rekord zuvor war 23 Pfund! Ein Engländer stand dabei und sagte, als er aus dem Wasser zurück kam, etwas Scherzhaft, aber irgend wie doch ernst gemeint: "…and now get the big one out!"
max nollert