KLICK HIER UND ERFAHRE MEHR / CLICK HERE TO READ MORE!
————————————————————————————————————————————————————
Wenn der Zeiger Fünf(zig) schlägt
von Jan Federmann
Es ist wieder einer dieser üblichen Wochen…
Voller Terminkalender und einer gefühlt unendlichen langen "TO DO Liste" prägen die letzten Tage, Ihr werdet dies bestimmt kennen. Die Gedanken sind häufiger am Wasser, wo sich mein Geist und Körper auch vermehrt wieder hinsehnt. Dank guter Planung, hat sich wieder eine Session unter der Woche mit dem Scupin Padde einrichten lassen. Kurze Stunden am Wasser unter der Woche, geben mir oft noch Motivation für die restlichen Tage. Nach erfolgreicher Arbeit ging es Mittwochnachmittags ans Wasser!
Dank Trolley ist das Tackel samt iBoat 160 schnell an den Angelplatz transportiert.

Da schon alles vorbereitet war, konnte ich die Ruten zügig an ihren Spots ablegen.

Anschließend kommt mit einer der schönsten Teile des Angelns – Warten und Entspannen 🙂

Nur gutes in der iBox – in dieser Session fischte ich einen Mix aus Partikel und 16mm Fish Boilies

Es zeigten sich schon wenige Minuten nach dem Ablegen starke Weißfischaktivitäten. So war natürlich die erste Brasse schnell am Haken. Jedoch war ich für diese Nacht nicht gekommen, um mich im Minutentakt mit Weißfischen zu beschäftigen, denn früh morgens rief die Arbeit wieder. So entschied ich mich meine Partikel in der iBox zu lassen und montierte zwei 20mm Worm Up Boilies und fütterte fünf Hände direkt auf die Montage, in der Hoffnung damit nicht gleich wieder Brassen auf dem Spot zu haben.

Die linke Rute lag noch scharf mit meinem Fish Boilie + Partikelmix Futter und die linke neu montiert mit Worm Up Boilies.
Meine Imperial Legend Carp Ruten – immer für einen legendären Fang gut!

Padde fing den schönen Sonnenuntergang mit seiner Kamera ein.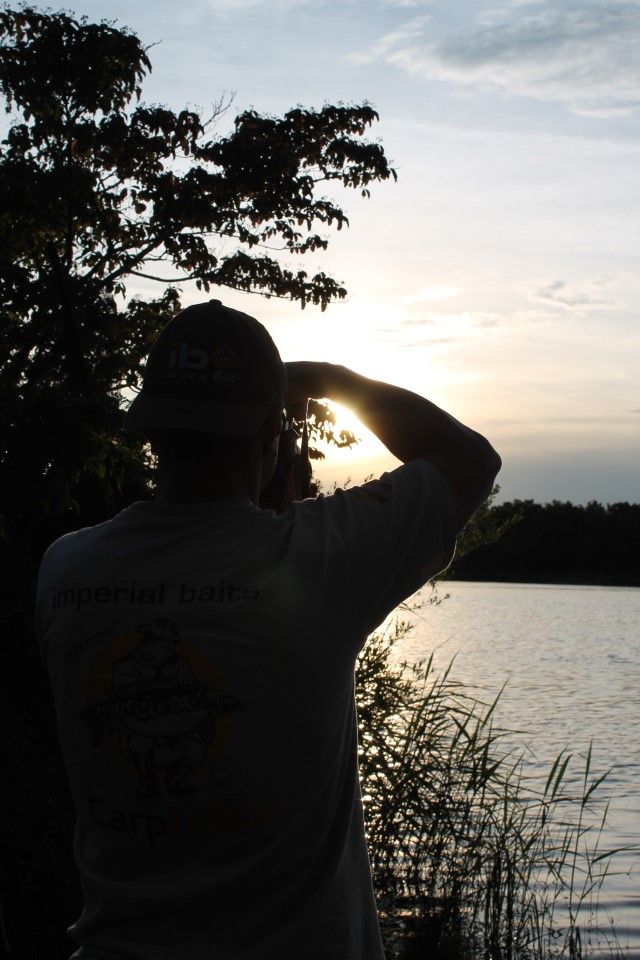 Kaum war es dunkel geworden, bekam ich auf meine rechte Rute leichte Aktivitäten. Der erste Gedanke war natürlich – Brassen! Nach einem leichten Fallbiss wurde ich jedoch sehr überrascht, als mich dieser kleine Zeiler besuchte.

Danach wurde es ruhig, sehr ruhig. Die Nacht konnten wir ohne weitere Aktion durchschlafen. Um morgens noch in Ruhe zusammenpacken zu können und noch gemeinsam einen Kaffee zu genießen, stellte ich mir den Wecker auf Fünf Uhr. Man möge es für eine Geschichte halten, aber pünktlich mit meinem Wecker gemeinsam meldete sich mein CarpSounder mit der Worm Up Rute und das Ergebnisse hatte auch was mit einer Fünf zu tun… 🙂

Ich konnte es kaum fassen und musste meine müde Augen zwei Mal reiben, als ich mit meinem iBoat beim drillen über diesem Fisch stand und ihn dann in meinen Kescher befördern konnt.

Morgenstunde hat Gold im Munde – und auf der Waag…
…als um 5Uhr morgens dieser 50er biss. I am happy – over and out!


Viele Grüße,
Jan Federmann
Team Imperial Fishing Germany
————————————————————————————————————————————————————
Bewerbe Dich für das Imperial Fishing Team!
Wir wollen unser Team weiter ausbauen und suchen aktuell nach Verstärkung. Deine Chance Dich bei uns zu bewerben und ein Teil der einzigartigen Imperial Fishing Family zu werden.

Folgende Anforderungen haben wir an Dich:
1. Du solltest viel und regelmäßig angeln gehen.
2. Du solltest viele verschiedenen Gewässer befischen und regelmäßig ausgedehnte Trips im "Neuland" verbringen.
3. Du solltest in der Lage sein, ansprechende und hochaufgelöste Bilder machen zu können.
4. Das Erlebte gilt es auf Papier zu bringen. Interessante und wertvolle Textberichte zu verfassen sollte für Dich kein Problem darstellen.
5. In der Messesaison ist Deine Hilfe am IF Stand gefragt. Du solltest auf Leute zugehen können und Ihnen unsere Produkte näherbringen.
Wenn diese Punkte auf Dich zutreffen, freuen wir uns auf Deine Bewerbung mit einer Hand voll Beispielfotos, ggf. bereits veröffentlichte Magazinartikel, Blogbeiträge oder Videos.
Deine Bewerbung geht an: team@imperial-fishing.de
Wir sind gespannt darauf Dich kennen zu lernen!
Team Imperial Fishing