KLICK HIER UND ERFAHRE MEHR / CLICK HERE TO READ MORE!
————————————————————————————————————————————————————
Das Ende 2015
von Philipp Resch
Hallo liebe iBlog Leserinnen und Leser,
zu Beginn wünsche ich Euch ein gutes neues Jahr, dicke Fische und vor allem Gesundheit!
In diesem Update möchte ich Euch ein paar gemischte Bilder aus meinen Herbsttrips 2015 präsentieren.
Ein neues Abenteuer stand bevor – das iBoat 320 war beladen. Ich war gespannt was mich erwartet! Das Wetter schien noch besser zu werden, doch es wurde wieder warm! Sehr warm!

Immer schön weit vorhalten 🙂 Achtung Ironie!
Die Carptrack Fish Boilies scheinen ihm geschmeckt zu haben!

Egal ob See oder Fluss – die Visible Touch lässt mich nie im Stich!

Am Mittag war ich dann endlich zuhause. Das Wetter war einfach perfekt und so packte ich meine Kühlbox mit kalten Getränken, um das Boston Whaler mit 115PS auszufahren! Der Nachmittag war einfach genial :)!

Volle Fahrt voraus!
Der 2,3Ps Motor (anmeldefrei) macht am iBoat 320 einen guten Eindruck

When the Sun goes down…

Neue Strecke – neues Glück!
Carptrack Fish Boilies fangen überall!

Und dann kam es dicke…

Ja, ich konnte es kaum glauben!

Ein uralter, bulliger Spiegelkarpfen!
Es war der Wahnsinn! Auch hier spielte der Fish Boilie eine große Rolle!

Und weiter geht´s…

Die kommenden Wochen lief es wie am Schnürchen!

Und dann war das Jahr schon wieder fast rum!
Das Wochenende nach Weihnachten fischten wir zu dritt noch mal am See. Wenn wir zu diesem Zeitpunkt gewusst hätten, was auf uns zu kommt…

Der Spaß stand eigentlich im Vordergrund! Michel, Martin und meine Wenigkeit
schmiedeten Pläne für 2016 am Feuer! Dann kreischte einer unserer Bissanzeiger los… GEIL!

Michel fing einen kleinen Spiegelkarpfen. Immerhin, für diese Jahreszeit (es war ende Dezember) zählt jeder Fisch!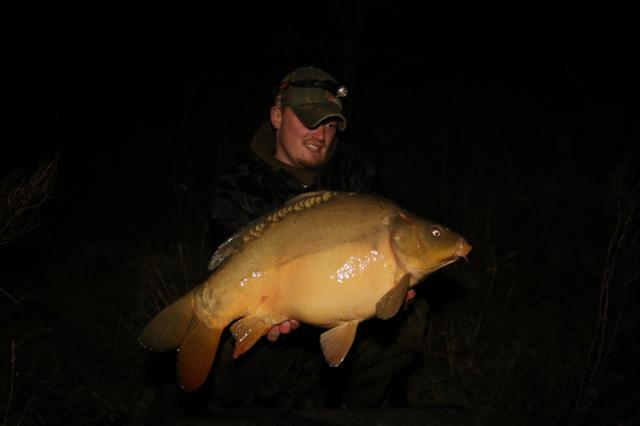 Keine Stunde später fing ich noch einen. Insgesamt hatten wir an dem Wochenende acht Karpfen – alle zwischen 8kg und 10kg – keine Großen aber immerhin! Fisch ist Fisch!

03.01.2016 – da bin ich glatt am nächsten morgen aufgewacht…

…und alles war weiß!
Nachts hatte ich sogar noch einen Fallbiss bei 6 Grad Wassertemperatur. Doch der ersehnte Schneekarpfen blieb aus! Übrigens, in der CHM Ausgabe 87 (vorletzte Ausgabe) findet Ihr einen Bericht von mir über die Winterangelei. Bis demnächst und fangt was!


Philipp Resch
Team Imperial Fishing Germany
————————————————————————————————————————————————————
Das große iBoat GEWINNSPIEL zur Messezeit!
Einsendeschluss ist der 31.03.2016
Über die gesamte Messesaison 2015/2016 werden wir den unten gezeigten Gewinnspiel-Flyer auf den Messen verteilen und ihn ebenfalls jedem Versandpacket beilegen.
Und so geht's:
Fülle die Felder entsprechend aus und gebe den Flyer auf einer Messe an der IF Kasse ab oder sende ihn alternativ per Post an:
Imperial Fishing GmbH
Wallgraben 2 / Gewerbegebiet Mont Royal
D-56841 Traben-Trarbach
Für alle die den Flyer nicht ergattern können, anbei der Download Link zur PDF Datei:
PDF DOWNLOAD – KLICK HIER!
MITMACHEN UND EIN iBOAT 320 REALTREE GEWINNEN!
klicken zum vergrößern