KLICK HIER UND ERFAHRE MEHR / CLICK HERE TO READ MORE!
————————————————————————————————————————————————————
Unser Angebot für Deinen XXL Frühjahrsstart!
BIG FISH OFFER – 5 kg FISH Boilies + inP & inLiquid
gültig bis zum 16.04.2017
…Wenn dieser Fischboilie sprechen könnte, würde er grandiose Geschichten erzählen, von unvergesslichen Sessions und Fängen aus ganz Europa!
Inhalt
– 5 kg IB Carptrack Fish Boilies (Größe wählbar 16, 20, 24 mm)
– 150 g IB Carptrack inP (puderförmiges Additive zum Pimpen)
– 300 ml IB Carptrack inLiquid (flüssiges Additive zum Pimpen)
FISH, ein einfacher Name für einen extravaganten Köder:
– Fischmehl LT94 & vorverdautes Fischmehl, frisch aus Norwegen!
– Original Robin Red & Super Red von Haiths, frisch aus England!
– IB Carptrack ADD FAT, Proteinkonzentrat, Squid-Liver Mehl, Lac- & Eggalbumin, Liquid Amino, original indisches Black Pepper Oil, XXL Fish Flavour!
Achtung:
Geben Sie bitte bei der Bestellbemerkung (am Ende der Bestellung) die gewünschten Boilie Größen an oder teilen Sie uns diese per Email mit: info@imperial-fishing.de
vielen Dank und einen erfolgreichen Saisonstart!
max nollert & Team
Step by Step to the perfect Baitpimp:
Dylan Porte, Lac Du Der 34,8 Kilo
– gefangen mit IB Carptrack Fish + inP & inLiquid!

————————————————————————————————————————————————————
In pursuit of satisfaction
from Luka Vukas
Last trip in 2016 was very succesfull for me, because I managed to catch biggest carp in complex of lakes where I fished last season. 2017 started very slowly and almost 2 months everything was under ice. Winter was really strong and I think it was good for carps because it was really welcome break for them.
BRRRRR! Really cold morning…

First short session I fished at last week in February. Just one night and without success, but that lake is my still water focus for this year. Other trips will be targeted on croatian rivers. Bigger and smaller, longer and shorter. I hope you will read about that trips here on iBlog.
My speedboat platform, make my fishing as an pure satisfaction

Days were passing slowly and weather was rainly and cloudy. It was Thursday and my friend Ivan Tonković send me few photos. He started with feeding campaing on Lika river. Water level was at the top and that was chance for fishing at submrged meadow. Carps coming at meadows to feed and because water is warmer here. I called Ivan and we make a deal about fishing in just few minutes. Next day after finished my job , I went to Lika. Lika is coldest croatian region, but carp are amazing there.
Mountain idyll

This is how it looks like underwater

Many anglers from Slovenia, Austria, Germany, even from Russia, coming to Lika to catch pure wild carp, their trophy. There is few rivers connected in complex. Lika is biggest and longest croatian underground river, also it is reconstructed with dam and there formed lake of Krušćica. Krušćica will be one of my destinations in future.
submerged meadows cows using for grazing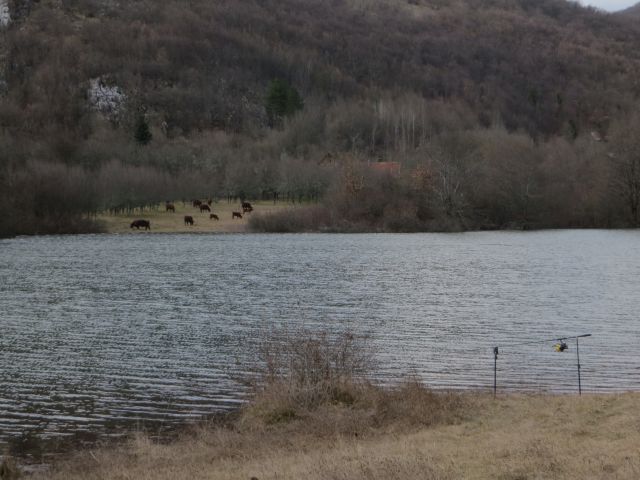 I came to the river at early evening, but wind was strong as hell and I didnt managed to sail on the open water. I just make 3 PVA compresses and I cast my baits before night fell down. I didnt had a vision of space in front of me and my first rig wrapped up in the branches on the opposite bank. Next 2 rods I done correctly and I make move to Ivan´s bivvy. We start speaking about carps and his earlier trips here and I hear a lot about waters in his region.
Spring flowers, yes, Spring is coming!

In the morning, when we drinked our coffe my left rod alived, but it was just big chub. That morning I make a draft of underwater world in front of me.
Morning coffe is best part of carpfishing for me

I found 3 interesting positions and restrech my baits there. That day passed calm and without new action.
Underwater, you can find a lot of rocks…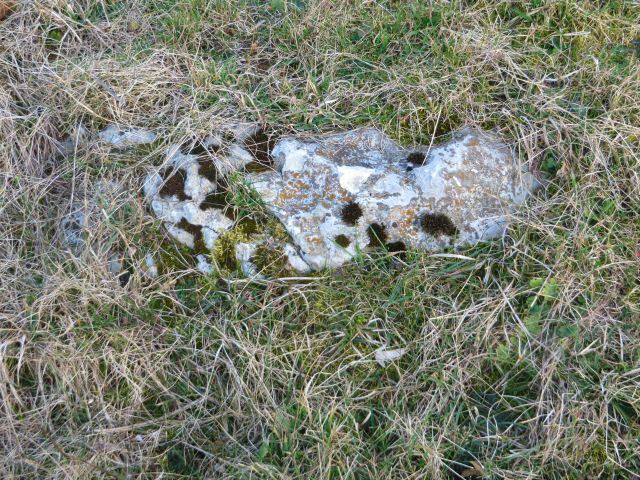 The same situation was continued through night. Carps jumped every time but they was uninterested about our baits. Ivan left me at Sunday because he needed to be in hospital next day. I was alone on the river and I had a lot of time to devise some new and better tactic and traps for carps. I decided to try with half n half 20mm Carp Total boilies. PVA mix I make with 4mm aminopellets, explosiv stick mix, inp and aminocomplex powder. Liquid part of mix was maked of aminocomplex liquid and fish dip. It was mix of strong atractive components and I believe if carps see it, they not resist.
My bait choice

Boilie on hair, I treated with aminocomplex liquid and powder. 3 times I put in liquid part and then in powder. So I made big coat of amino and it was really bombastic bait underwater. Night before last brings to me strong run. Finally I had chance to catch my first carp there, but carp was faster and he grabbed dumps left near my spot. I cant describe how proud I was in that moment.
H marker on the spot!

After 50 hours without carp action I managed to provoke the action. On new water, in these conditions.
Delkim waiting for action

Next morning I make 6 new rigs, all the same. Carp Total and aminocomplex. I decided to go for all or nothing. One more time I research my spots with sonar compared with my iBoat 320 and minn kota 40 lb. I put my baits on the more precise spots and I was full of self confidence.
Carp total half and halfs, Visible, attractive, and tasty

I could only wait behind my rods.
Visible Touch Snaggy Water, what a line!!!

ACTION!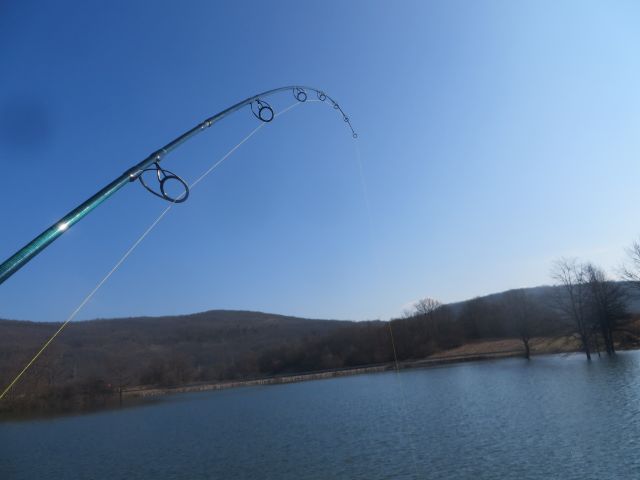 But just big chub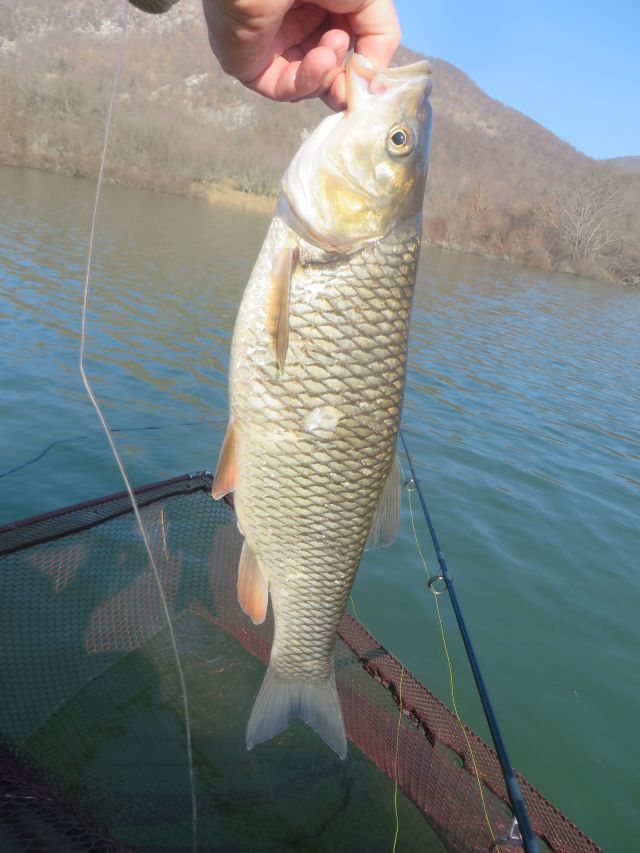 Fairy of Velebit mountain (biggest in my country) prepare suprise for me. Last night, at 4:40h, I had run on my middle rod. I ran out of bivvy and took rod in my hands. Firstly I felt solid opponent on the other side. I jumped in my boat and battle started. Ivan was with me and he helped to me a lot. When we arrived above the carp he turned on his jet propulsion. Then started around 10 minutes of fight between 2 crazy anglers and big wild mirror carp. We won the fight! Firstly I thought that I have carp around 7-8 kilos on my rod. But it is crystal clear water and when carp touched water surface my knees gets buckled. Next moment landing net was under him and then I noticed length of fish.
Satisfaction is on the top!

Looks like action was here?

Here too?

Morning temperature was -8 degrees

Carp total, winner for this time

Who is there?

Lethal rig

Few minutes later I made coffe and we watched the sunrise. Morning was really cold but I didn't recognize it. Now I feel aftermaths, sneeze all day. My nose is in bad condition but no matter. Heart is full of satisfaction. While we took pics ,emotions welled through my body. The great start of the season for me. Again I managed to catch big carp in wild water. I waited 80 hours for my chance but I did it.
What a beauty

Another side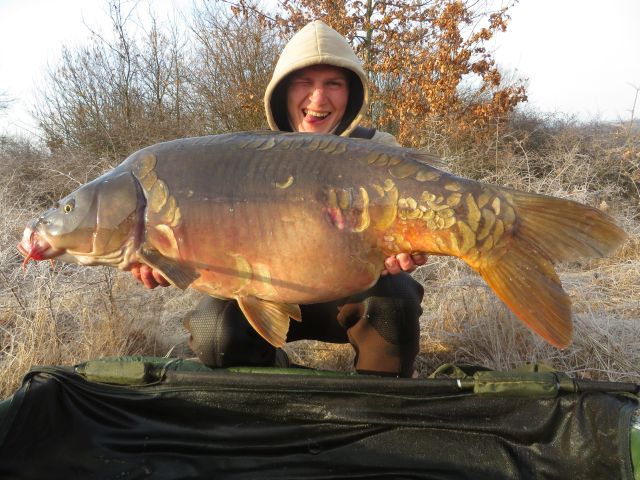 Big fat mirror

Pic in the water

Reanimation before releasing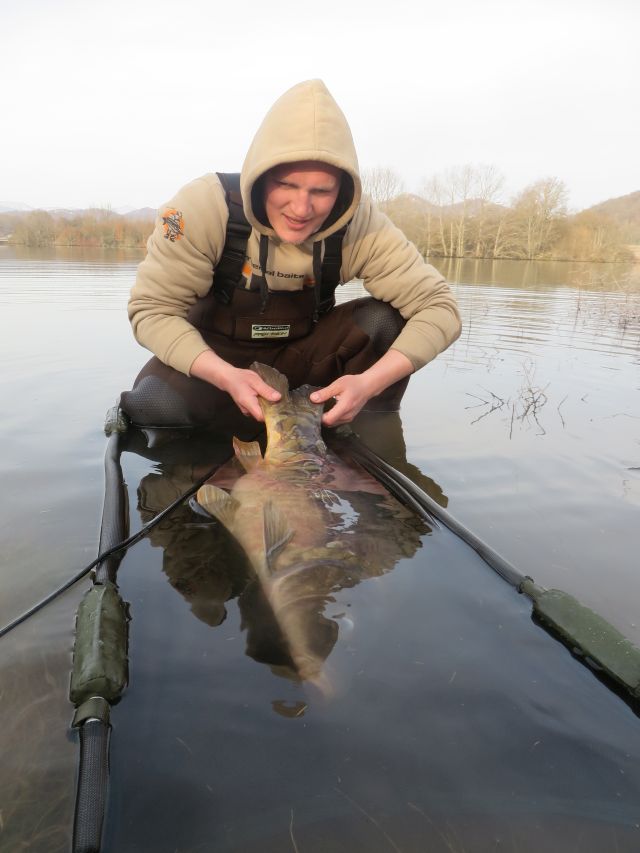 Another big chub

Part of Velebit mountain, biggest mountain in my country

Few words about other conditions. Water temperature was 6 degrees all the time. Wind blows strong first night, from time to time even 130 km/h. First night was rainy but later weather become better. I spent maybe 1 kilo of aminopellets and stick mix, water is still icy cold and carps are in slow mode yet. Every morning, the edge of the river was frozen. Cant wait new session there, it is really some another world, it is world paradise.
Frozy morning picture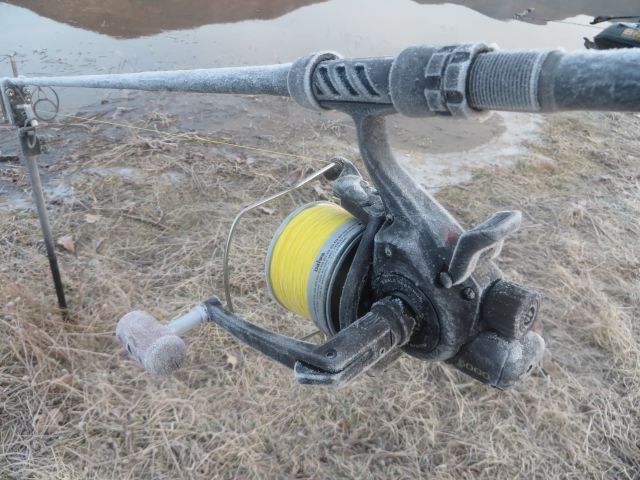 Water by the shore was frozen in the morning

Where is the rod?

Pic of the week!

Cold sunrise

My fishing car was like iceberg, Titanic has no chance against it 😀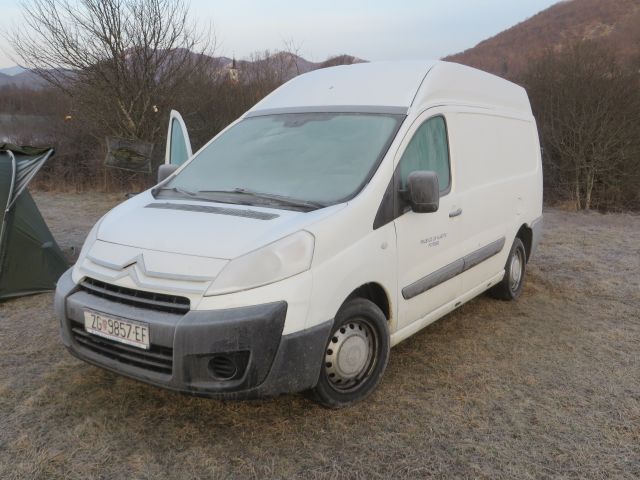 Hardcore style!

Way to home, asap I ll be back!

Be patient and believe in yourself and result will come.


Tight lines!
Luka Vukas,
Team Imperial Fishing Croatia
————————————————————————————————————————————————————
Zapraszamy na targi Rybomania Sosnowiec!
W dniach 24-26 marca 2017 zapraszamy wszystkich na targi Rybomania w Sosnowcu! Będziemy z pełną ofertą i rewelacyjnymi cenami! Gość specjalny – Max Nollert!