—————————————————————————————————————————————————————————
Oster-Session 2014
von IB Lady Claudia Darga
Die verlängerten Ostertage standen bevor und unsere Planung lief bereits auf Hochtouren. "Vier Tage frei!"… hieß es einmal wieder und das Wetter sollte auch aller erste Sahne werden!
Doch leider machte mir die Familie als auch mein Job, dieses Jahr kurzfristig einen Strich durch die Rechnung und so konnte ich erst am Ostersonntag ans Wasser fahren. Freunde saßen bereits seit Freitag am Wasser und hatten zu dem Zeitpunkt bereits einige gute Fische landen können.
Das Wetter war hervorragend und die Natur begann langsam aus Ihrem Winterschlaf zu erwachen. Now it's time to fish!

Die ersten Knospen hingen bereits an den Bäumen…

…und die ersten Krabbeltiere begrüßten mich am Wasser.

Es hieß keine Zeit verschwenden und die Ruten schnell präparieren, denn viel Zeit bis zum Sonnenuntergang blieb uns nicht.
Die Köder-Wahl viel dieses Mal auf eine Mischung aus:
IB Carptrack Monster's Paradise Boilies in 20mm sowie IB Carptrack Fish Boilies ebenfalls in 20mm. Wie immer wurden die Kugeln nochmal mit Hilfe von IB Carptrack InL, IB Carptrack inP sowie IB Carptrack Liquid und IB Carptrack Powder präpariert und dadurch richtig heiß und fängig gemacht. Nach kurzer Einwirkzeit in der Sonne ergibt sich so eine super Schicht um die Murmeln die nach und nach ihre Lockwirkung verstreut.
Bei der ersten Rute entschied ich mich mit 2 Händen gepimpter Boilies zu füttern.

Als Hakenköder wurde ein Snowman aus einem 20mm IB Carptrack Fish Boilie in Kombination mit einem 16mm IB Carptrack V-Pop pink aufgezogen. Das Ganze noch kurz im IB Carptrack Amino Dip Fish gedippt und schon landete die erste Rute auf dem Hot Spot.

Auf der zweiten Rute fuhr ich eine andere Taktik und so griff ich zu 16mm selbst abgerollter Carptrack Banana Boilies.
Die Zusammensetzung hierbei ist recht einfach:
Man nehme pro Kg IB Carptrack Banana Mix, 6ml IB Carptrack NHDC, 8ml IB Carptrack Banana Flavour sowie ca. 15ml IB Carptrack Liquid Amino. Fertig ist ein perfekt riechender und sehr ausgewogener, süßer Boilie.
Auch hier entschied ich mich nur für eine kleine Menge Futter. 2 Hände Boilies in Verbindung mit Groundbait bestehend aus IB Carptrack Banana Mix, groben Haferflocken, Partikeln sowie IB Carptrack Liquid und etwas IB Carptrack Power Powder Banana sollten Fisch bringen. Als Hakenköder wurde ein einzelner 16mm selfmade Banana Boilie eingelegt im IB Carptrack Amino Dip Banana angeboten.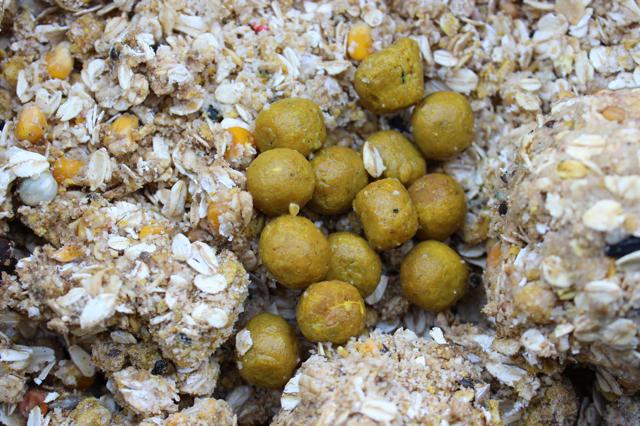 Die Ruten wurden sauber abgelegt und die Nacht konnte kommen.
Ich fing in den frühen Morgenstunden zwei super Fische!
Ein wunderschöner Schuppi konnte den selbstgerollten Carptrack Banana Boilies nicht widerstehen!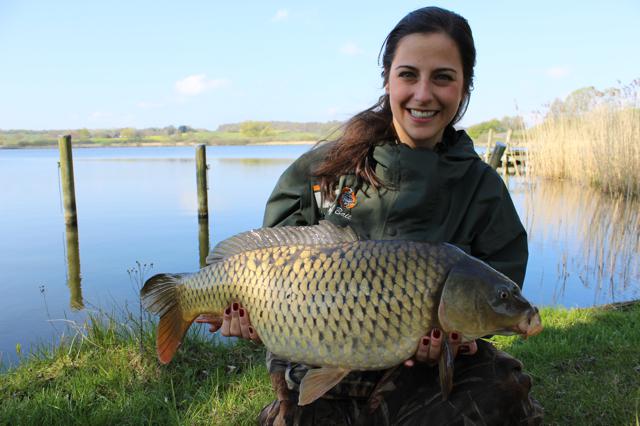 Ein schöner Fisch bei Traumwetter!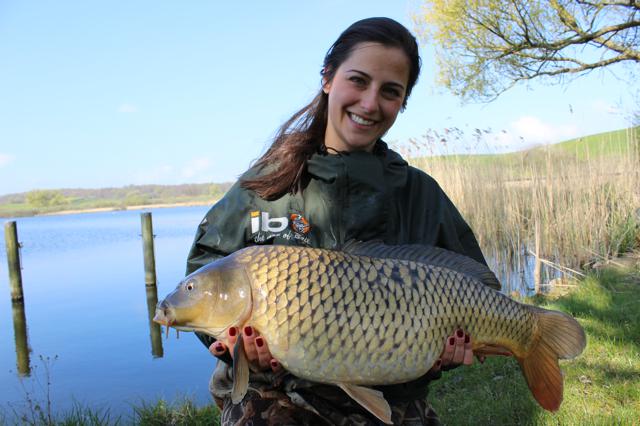 Nach einem kurzen Fototermin, entglitt mir der Fisch aus den Händen und plumpste zurück in sein Element!

Kaum war der Fisch im Netz ging auch schon die nächste Rute ab und diesmal war ein deutlich besserer Fisch am Band. Nach einer gefühlten Unendlichkeit, konnte ich den Fisch sicher landen.

Es war ein super Karpfen mit einem top Gewicht, der die Tour für mich perfekt machte!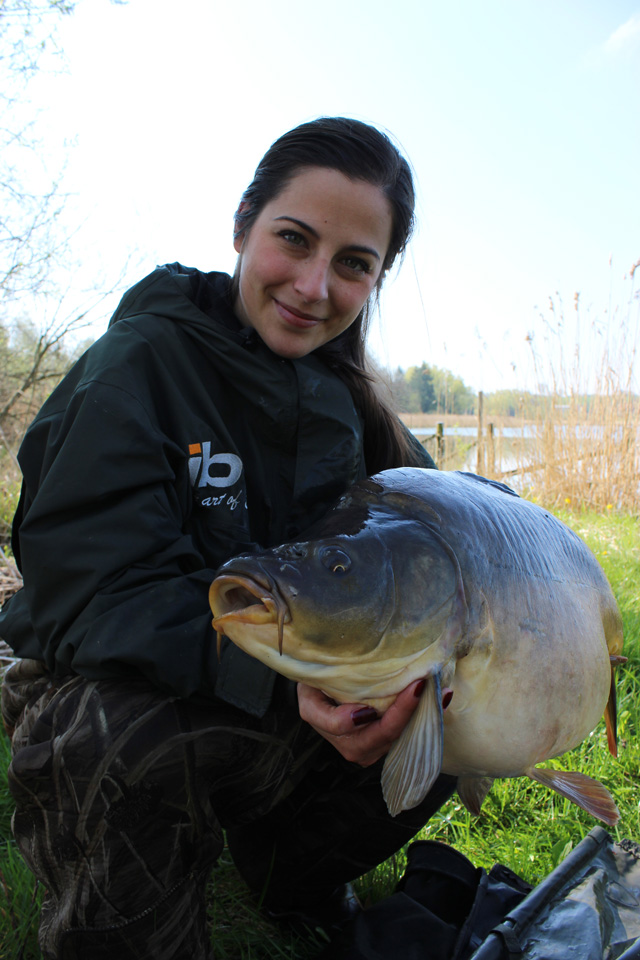 Dieser Fisch war damit zugleich der Größte, der an diesem Wochenende am ganzen See gefangen wurde und so sahen die Jungs ganz schön alt aus 😉

Trotz des doch sehr kurzen Oster-Wochenendes, hatten wir eine Menge Spaß am Wasser und konnten super Fische fangen.
We love to fish!


Imperial Baits Ladies Team
Claudia Darga
—————————————————————————————————————————————————————————
First Session of April 2014
from IB Lady Elena Antoniucci
My first session of April takes place on the big lake of Bolsena, one of my favorites but also one of the most difficult waters, where the catch of carp depends on the wind blowing in the area. Before I left for the session I control with my boyfriend Alexander the conditions. We would have southny wind and sun, so we decided to draw on a field with shallow water where the wind blew directly in our faces. We hoped that the temperature of the water on our spot is high enough to have the natural carp food on our shore.
I decide to take the baits which I made with the IB Carptrack Elite Strawberry Mix mixed with 10% of the new Carptrack Add Fat.

The aromatic base consists of Elite Strawberry Flavour, NHDC – The Original and Carptrack Banana Power Powder.

The Bolsena carp love this combination and it gives me always satisfaction!

As I said before we seen the rise of the temperature and I placed my rods in the near by the weed in 5 meters deep. I had the hope that the small crustaceans, that live there, will wake up and call the carp into my area. Evening comes and my boyfriend Alessandro paied me a nice Pizza for a lost bet the day before. The night goes quiet, as announced at 4 O'clock a gentle warm wind from the south starts to blow. I hoped it bring some fish!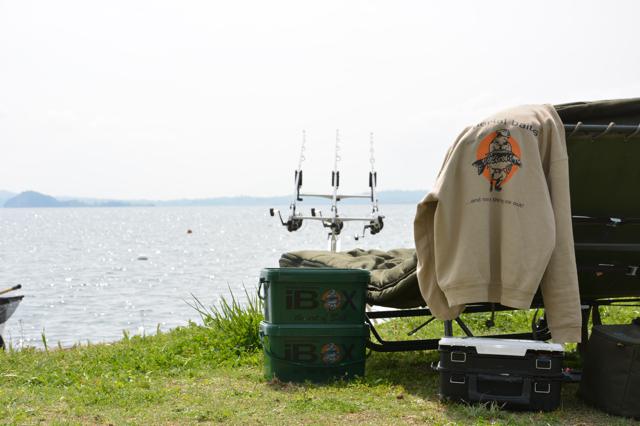 The morning alarm clock at eight o'clock when the rod near the weed emits a few beeps. I look at the tip and I see it flexing, so I do not waste time and we get into the boat to meet the fish!
The combat was still funny with my Imperial Baits Legend Carp and we finally we got the carp into the net.
A big victory for me!

Unfortunately during the day the wind changed and for the following 24 hours it was quiet.
The adventure continues soon… 🙂
My rod the Imperial Baits Legend Carp

Imperial Baits & Carp'R'Us – together we are even stronger!

I love the CRU Stuff!

We use the Carp'R'Us Snag Clip System to lose the heavy leads during the fight with a carp!

My pimped tacklebox with some IB stickers – love it!


Imperial Baits Ladies Team
Elena Antoniucci