Update 19.Mai 2008: mit René Rex, Klaus Schneiderhan, Team Imperial Baits Kroatien, Carpbrothers.at, Wernwer Hollmüller, Kai Rothfuß, Dirk-Carsten Roth, Christian und Paul Quintus, Fabian Goetzens, Bachir ;Den Auftakt diese massigen NEWS macht
René Rex– immer wieder verblüffend mit wie wenig Aufwand er die dicken aus schwierigsten und dünn besiedelten Gewässern zieht!
"Hallo Max,
aus Zeitmangel bin ich dieses Jahr nur zu drei kurzen, erfolglosen Nachtsitzungen gekommen. Ausgerechnet dieser besondere See bescherte mir meinen ersten Karpfen 2008.
Seit drei Jahren habe ich hier nicht mehr geangelt. Zum einen weil mir während dieser Zeit zu viele Karpfenangler am See waren, zum anderen hatte ich fast alle bekannten großen Karpfen gefangen. Seit Jahren werden nur noch die selben Fische gefangen, demnach leben unter dieser relativ großen Wasserfläche nur 11 Karpfen. Aufgrund der guten Abwachsraten spekuliere ich mittlerweile mit einem fetten Spiegler über 25 kg, zudem ist mir der Fang eines besonders schönen Zeilkarpfen verwährt geblieben, also habe ich zwei Tage vor`m Angeln mit 5 kg selbstgerollten Carptrack Fish Boilies und ca. 10 kg Carptrack Aminopellets in 15 und 25 mm vorgefüttert.
Nach zwei Graskarpfen von ca. 10 kg kommt es am Morgen des zweiten Angeltages zu meinem ersten "richtigen Karpfenkontakt". Nach einem relativ kurzen aber heftigen Drill (ich gebe nie viel Leine!), während dessen sich der massige Fisch hinter eine steile Sandbankkante stellte, konnte ich ihn endlich keschern. Sofort erkenne ich den Fisch wieder, ein Schuppenkarpfen den ich vor drei Jahren mit 17,5 kg fing. Jetzt hat er, bei 100 cm Länge, 22,2 kg auf den Gräten. Mal sehen was das Jahr sonst noch so bringt.
… and now get tue big ohne out!
René Rex
Klaus Schneiderhan berichtet von seinem Trip nach Marokko:
Hallo Liebe NEWS-Leser,
anbei ein paar Eindrücke von meinem ersten Marokko Trip. Ich hatte kurzfristig die Möglichkeit, mich einem Team anzuschließen und konnte daher nicht nein sagen.
Der erste Eindruck, ich werde Ihn nie vergessen, ist die schier endlose weite des Gewässers, auch wenn momentan über 10 Meter Wasser fehlten. Einfach unglaublich und unglaublich schön.
Schon am ersten Morgen sahen wir unser Ziel laut auf dem Wasser klatschen und es konnte nicht schnell genug gehen, endlich die Ruten ins Wasser zu Befördern. Es dauerte auch nicht lange bis die ersten Bisse sich einstellten. Leider änderte sich nach nur 3 Tagen das Wetter von Sonnenschein und Wärme in Kälte, Regen und Sturm. Viel zu schnell verging diese eine Woche, aber ich bin mir sicher dass ich dieses Abenteuer wiederholen werde.
Die Reise und der Service vor Ort wurden von dem Veranstalter Marc Vergauwen perfekt organisiert, es blieben keine Wünsche offen.
Es ist, trotz mancher Aussagen, nicht gerade einfach am Bin El Quidane die Karpfen zu fangen. Man muss sich auch hier sehr viel Mühe geben, gerade weil die Fische doch sehr wetterempfindlich sind. Solange die Sonne scheint und kein Wind weht, kann man wirklich Massenfänge erleben. Aber auch nur dann……

Viele Grüße
Euer Eso
Big Fish from Team Imperial Baits Croatia!
Hi Max!
I'm sending you some photos from our fishing on the lakes Tempo and Finzula. When I say our, I mean by that our Team from Croatia who is presenting Imperial baits products in Croatia market (Ivan Marusic, Alan Matanovic and Tomislav Bartol). The lake Tempo is a very hard water to fish big carp. There is a lot of small carp and crabs but very few carps over 10 kg. The last week we catch there some Carps over 15 kg. Two splendid ones you can find below on the photos with Alan.
Lake Finzula
In the period of 50 hours of fishing two weekends ago we cached on the Lake Finzula seven Carps over 15kg and 30 Carps between 5-13kg. We still feel our muscles, but the pain is a sweet one, because it reminds us on our successful fishing. Our spot was 100-140m far from the bank what means, that we left a lot of hard working of feeding behind.
Below you will find some photos of our fishing in Finzula:
Alan and Ivan – Sometimes there is hard to avoid from the white fish

Alan, 16,200 Lake Tempo

Alan, 18kg Lake Tempo

Alan, 22.400kg

Ivan -rapala- 20.500kg & 98cm

Ivan, 20.500kg with 98cm

mmm… nut sweet nut!

Tomislav 17.400kg precious one -female- with 95cm

Tomislav 19.700kg

Kind regards from Croatia
Alan, Ivan and Tomislav
NEWS aus Österreich von den www.carpbrothers.at
Hallo Max,
Hans-Peter aus unserem Team konnte einen Spiegelkarpfen mit 24,50 kg auf Monster Cold Water Boilie 20 mm, gedipt mit Monster und geboostet mit Carptrack Gel Monster landen und mir ging auf den gleichen Köder dieser 23,5kg Schuppi in den Kescher!
Pez mit Persoanalbest 24,50 kg

Werner mit Schuppenkarpfen 23.20 kg

Viele Grüße Österreich,
Werner
Kai Rothfuss berichtet von seinem kürzlichen Frankreich Trip…
Servus Max!
Ich kann unseren letzen Trip ganz kurz beschreiben: <b<ENDGEIL!!
Wir waren vier Anlger und haben insgesamt 22 Fische bis 44 Pfund gefangen
Größtenteils auf Osmotic Spice + 1 Tigernuss und Elite+ 1 Tigernuss + Elite Amino Gel!
Muss sagen bin echt von den ELITES restlos begeistert! Am ganzen See wurde kaum was gefangen und auch deutlich kleinere Fische!
Wetter hat auch gepasst, Wind stand auf unser Ufer zu und die Fische bissen meist in der Nacht und zu 75% im Uferbereich (bis 30 Meter)
Wollte nur nochmal ein großes Konmpliment an Euch aussprechen, eure Murmeln sind einfach richtige geile Köder für unsere Lieblinge!
Auffällig war auch, dass bei vielen Fischen in den Ausscheidungen sehr viele Boiliereste waren, somit auch ein Anhaltspunkt für die Verdaubarkeit und die Verträglichkeit der Zutaten, die in den Boilies drin sind!
Ich schick dir mal anbei noch ein par Bilder unserer größten Wasserschweinchen <!smiley3>
Der Jungangler aus der Truppe mit dem Dicksten: 22 kg!

Und das waren meine beiden schönsten

Dirk Roth und viele DICKE
Hallo Max,
wir waren mal wieder für eine Woche in Frankreich zum fischen.
Konnten einige schöne Karpfen bis über 20kg fangen.
Ein schönen Wels konnten wir auch auf die Matte legen.
Alle Karpfen haben wir auf Monster Boilie/Carptrack Monster Dip-Gel gefangen.
Auf deine Boilies war wie immer verlass……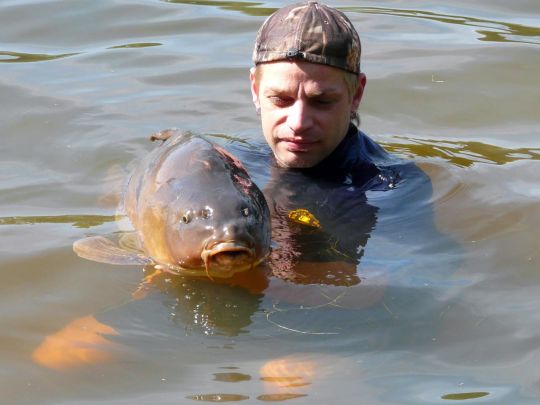 Viele Grüße und NUR DICKE!
Dirk-Carsten Roth
Raymund Rollinger
Team Carp-Corner
P.S. Danke noch für die schnelle Auslieferung meiner Bestellung von letzter Woche
Neues von Christian und Paul aus Luxembourg
Flachwasser, noch nie einen Fisch gefangen und doch sind wir wieder da hängen geblieben. Und für 2 Nächte nur Brassen gefüttert.
Alles einpacken und doch noch eine Nacht in der Fahrrinne angeln. Kurz vor`m Einpacken, doch noch das Ziel erreicht, einen Fisch zu fangen.
14,5 kg auf Carptrack Fish Boilies

Auch ihnen haben wir die Fish Boilies gefüttert<!smiley1>

Viele Grüße,
Paul und Christian Quintus
Fabian Goetzens: Erster Versuch!
Hi Max,
was soll ich sagen, erst ein Mal danke für die schnelle Lieferung, hat sich ja gelohnt <!smiley1>.
Direkt 2 Fische in der ersten Nacht, am neuen See.
Noch einmal Danke und alles Gute für Saison 2008….
Viele Grüße,
Fabian Goetzens
Ein Kunde aus Frankreich, Bachir, sendete mir dieses Photo von der Messe in Montlucon…