KLICK HIER UND ERFAHRE MEHR / CLICK HERE TO READ MORE!
—————————————————————————————————————————————————————————
Jetzt die "IF APP" laden und sofort 20 % Rabatt genießen…
APP DOWNLOAD HIER:
klicken zum vergrößern

Brand neu: Die IF APP ist endlich da!
für alle mobilen Endgeräte
App Highlights:
– Limitierte Spezial- und Sonderangebote nur für Appbenutzer
– Sofortige Hinweise auf Angebote per Pushnachricht und damit als Appbenutzer die besten Angebote ergattern!
– Live Shopping mit Countdownfunktion
– Newsletterfunktion
– Gutscheinfunktion
Die neue Imperial Fishing APP ist für sämtliche Endgeräte erhältlich. Sie bietet Dir eine übersichtliche Oberfläche, Smartphone / Tablet optimierte Bilder, Texte und Menüführungen sowie einige Features…
APP DOWNLOAD HIER:
—————————————————————————————————————————————————————————
Wenn's mal wieder länger dauert!
von Stefan Uhrig
Hallo Leser,
nun befinden wir uns schon mitten im September und die Zeit der dicken Herbstkracher steht kurz bevor. Jetzt heißt es die letzten warmen Tage und Spätsommernächte genießen und raus ans Wasser!
Nach einem schönen Familienurlaub ging es zurück in die Heimat und eine Woche Urlaub blieb mir noch. Eigentlich war ein Trip von 5 Nächten nach Frankreich, zur großen Rhone geplant gewesen. Doch leider sagte mein Partner kurzfristig ab… Was nun? Nach flüchtigen Überlegungen alleine an die Rhone loszuziehen entschied ich mich anders, denn es war noch ein Ziel in Deutschland offen, eine Mission war noch nicht erfüllt! Im eigenen Vereinsgewässer wollte ich meinem Zielfisch nachstellen.
…es müssen wohl so um die 30 Nächte gewesen sein, die ich dort schon verbracht hatte, jedoch war es nie länger als 48 Stunden fischen am Stück. Nun lagen 5 Nächte vor mir und die Euphorie stieg wahrlich an, als ich mir Bilder aus dem letzen Jahr von dort erlebten Session's anschaute. Gefangen hatte ich an der Stelle immer, meist 2 oder 3 Fische, ja sogar eimal 5 an einem Morgen… Ich war heiß wie Fritten-Fett und konnte es kaum erwarten am Ufer zu stehen und die Ruten scharf zu machen. Da läuft bestimmt so allerhand ab dachte ich mir und wenn die Fische erst einmal an das Futter und den Platz gewöhnt sind wird's schon deftig knallen.
Ich hatte meine Hausaufgaben gemacht und meine Rigs hingen zum "quick-change" bereit!
Doch es passierte 2 Tage und 2 Nächte absolut gar nichts…

Das Wetter wechselte fast im Stundentakt und auch von anderen Weißfischanglern in der Gegend wurde mir von miserablen Fängen und Beissflauten berichtet. Hätte ich vielleicht doch nach Frankreich fahren sollen? Oder an ein anderes Gewässer in Deutschland?

2 Tage waren nun um und nach einigen Überlegungen zu moven, beschloss ich noch eine Nacht abzuwarten.

Es hatt ne Menge Zeit, Glück und Nerven gekostet, doch diesmal hatte ich ihn erwischt!

Und den ersten Fisch nach 3 Tagen blank gleich mit…
Morgenstund hat Gold im Mund 🙂

35 Pfund und ich war wieder im Geschäft 😉 Juhuuuuu!

Happy und erleichtert!

Hoffentlich war das der Startschuß und es geht endlich wieder richtig los!
Doch es folgten erneut über 24 Stunden ohne Piepser…

Erst der zeitige 4. Morgen bescherte mir den zweiten Run.

Im Carpsack Excellent von IF war und ist der Karpfen immer excellent geschützt und untergebracht!

Hier ist das Teil!

Oder doch eher Pizzateller? 🙂
Er biss auf Liquid-Powder Paste und gab mit seinen knapp 25 Pfund mächtig Gas!
Die Liquid-Powder Paste könnt ihr als GRATISZUGABE bei den Herbstangeboten ergattern!

Nach 4 Nächten nur 2 Fische, aber ich war glücklich!

Es wurde wieder still…

…bis zum neuen Drill!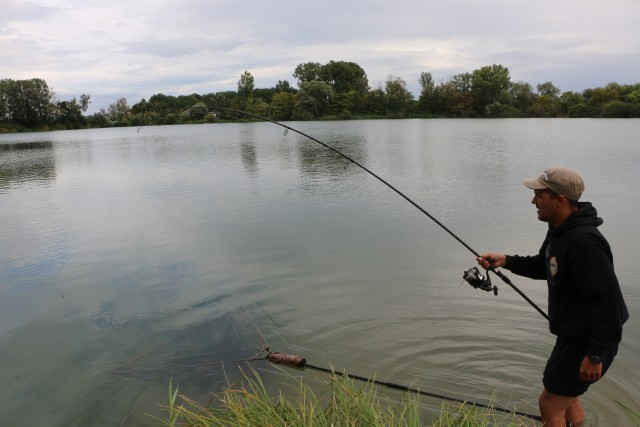 Der Morgen verblasste und am Mittag kam der ersehnte dritte im Bunde!

Ein grauer 33 Pfund Spiegler, makellos und ebenfalls auf die Liquid-Powder-Paste!

I love to fish!

Schuwpps, entglitt mir der Fisch! 🙂

Es läuft nicht immer und bis zum einpacken einen Tag später konnte ich keinen weiteren mehr ans Band bekommen. Doch das ist eben Karpfenangeln, anders wäre es doch langweilig oder? Das ist es was es ausmacht!

Bis bald, ich wünsche Euch allen dicke Herbstbomben!
Durchhalten wenn's mal länger dauert und viel Petri Heil 😉


Stefan Uhrig
Team Imperial Fishing Germany
—————————————————————————————————————————————————————————
Die neuste Innovation aus dem Hause Carp'R'Us – STRIP-X!
Hier geht's direkt zum Produkt in den Onlineshop
klicken zum vergrößern